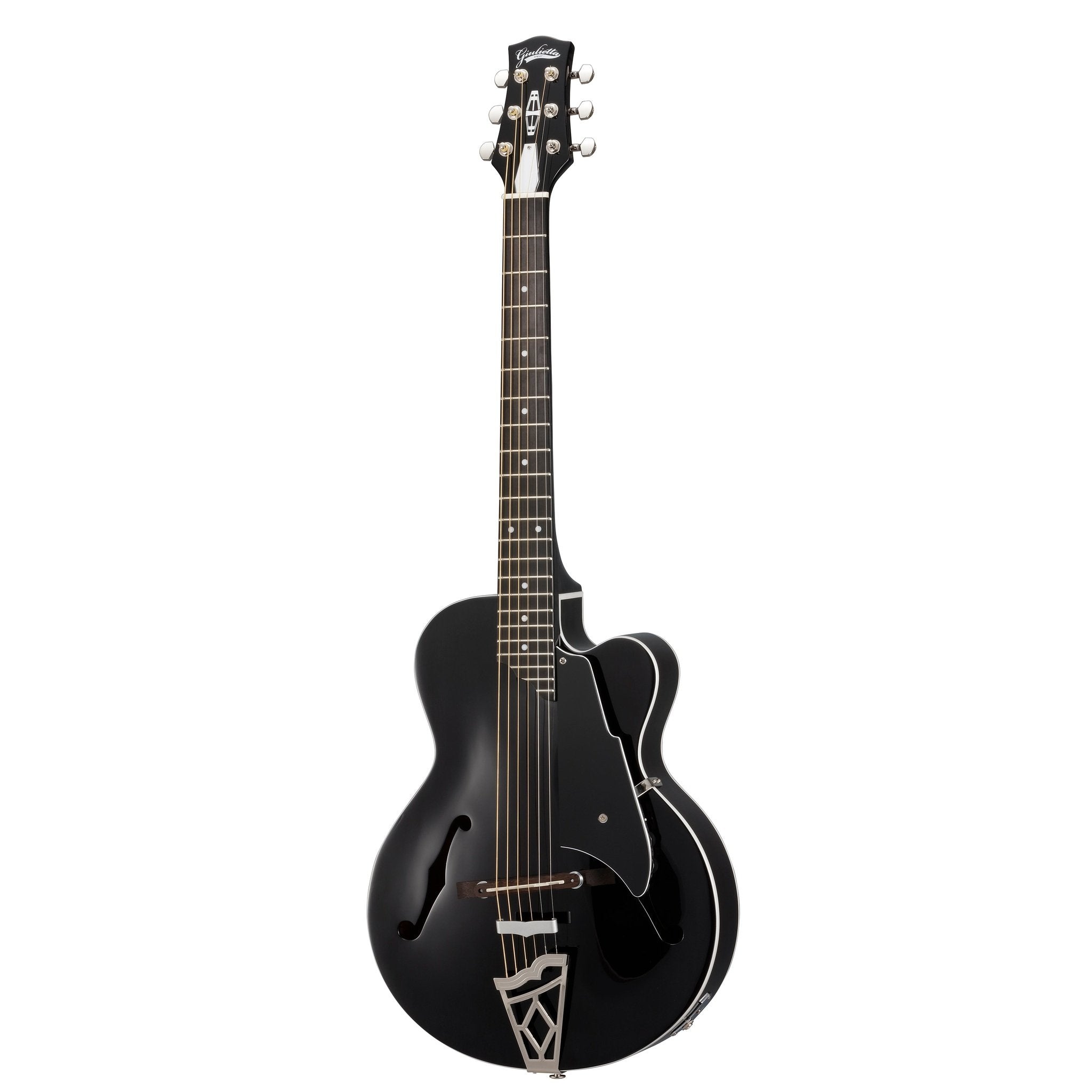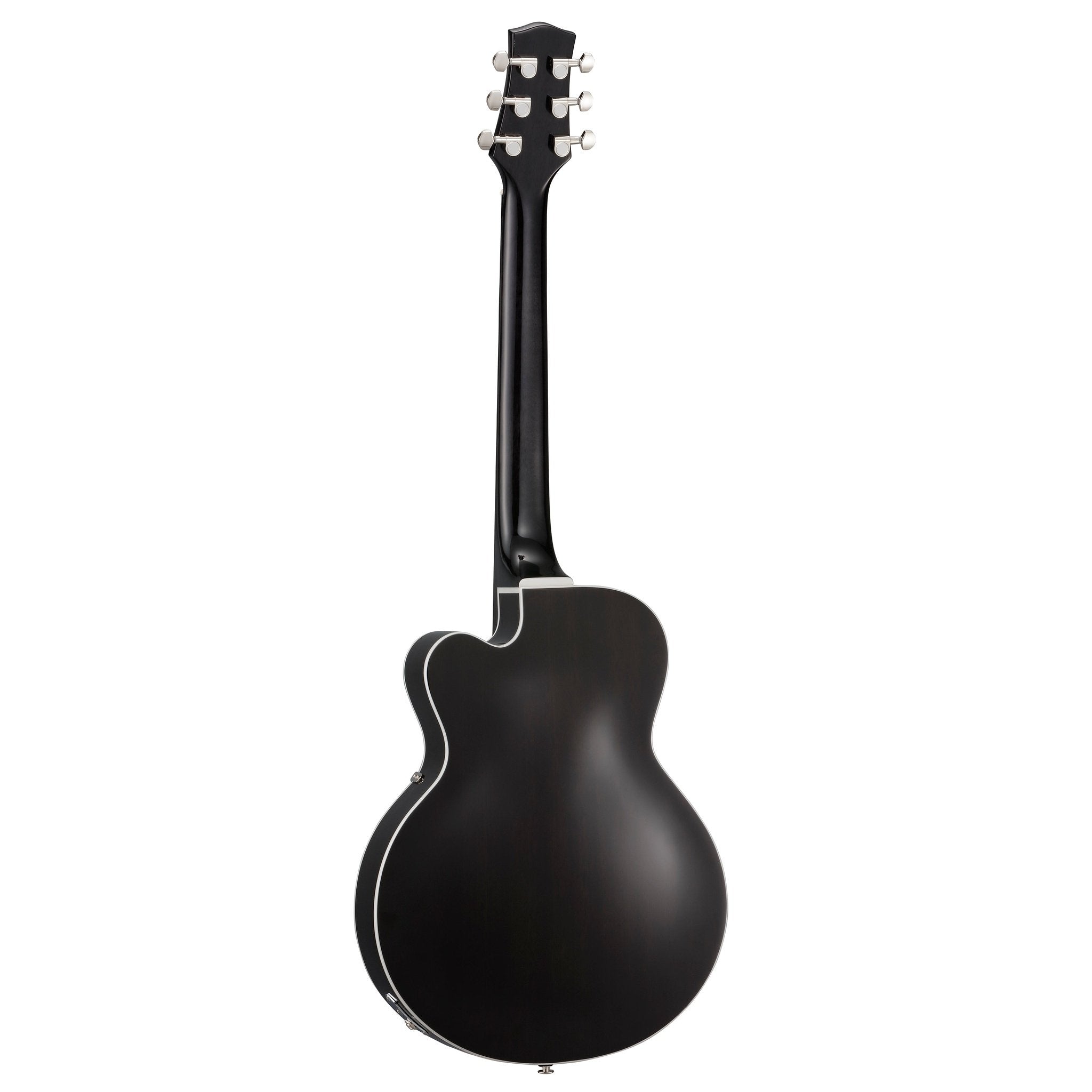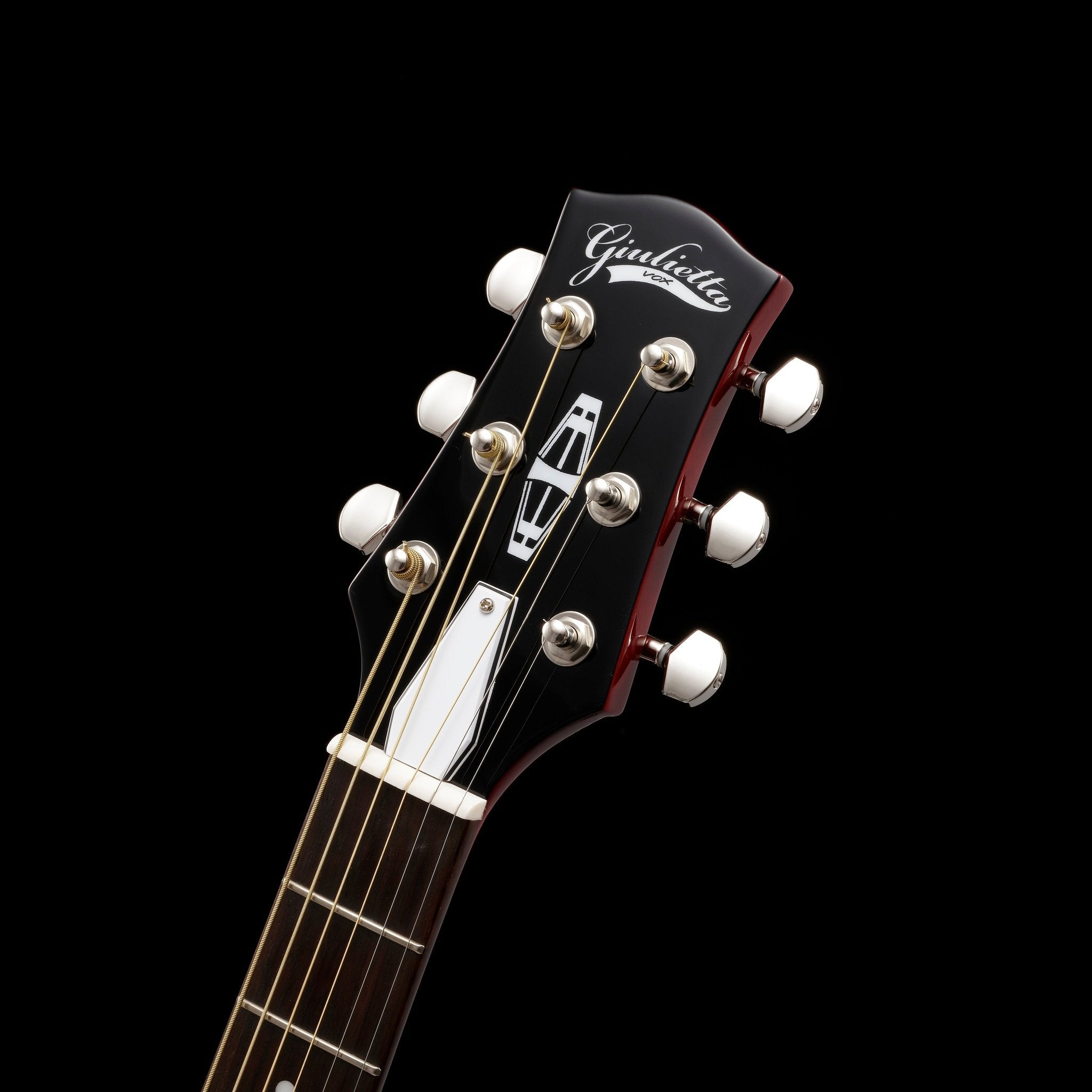 Giulietta VGA-3PS Archtop Guitar w/ Super Capacitor
The Vox Giulietta VGA-3PS single cutaway archtop acoustic/electric guitar is designed with the contemporary player in mind. Featuring a unique design with classic archtop styling, and modern playability and cutting-edge sound quality thanks to Vox's new Super Capacitor Preamp System.
Extend your warranty for free when buying direct from Vox Amps UK. Find out more.
The Vox Giulietta VGA-3PS single cutaway archtop acoustic/electric guitar was designed with the contemporary player in mind.
Its unique design features classic archtop styling, yet offers modern playability and cutting-edge sound quality thanks to Vox's new Super Capacitor Preamp System.
Quick Overview
A full 628mm (24.75") scale length and compact 342mm (13.5") wide full-hollow arched top and back laminated body, puts the complete range of expression in your hands in a portable and easy-to-play package.
New Vox Super Capacitor Preamp System with pickguard-mounted Volume and Tone controls coupled with a high quality piezo pickup in the Hybrid Bridge offers greater dynamic sensitivity and tonal flexibility with the minimum amount of controls.
Low Cut Trim Pot for precision focusing of bottom end.
Active/Passive Switch to turn off Super Capacitor Preamp for passive use.
22 fret set-in carved mahogany neck with baked Jatoba fingerboard. 42mm (1.65") bone nut.
Patent-pending Hybrid wood/aluminium adjustable bridge.
Vox patent-pending String Mute to stop unwanted "over-ring."
Sealed chrome plated die-cast tuning machines.
Chrome plated trapeze tailpiece and strap button.
Available in Natural, Trans Red, and Trans Black finishes.
The new Giulietta VGA-3PS is an evolution of the classic, full-hollow archtop guitar. These all-new compact archtops feature sophisticated electronic technology, allowing for more versatility and performance friendly features when recording or playing live. These guitars also feature Vox's new Super Capacitor Preamp System, which provides clear, brilliant sound for 8 hours after a quick 10-minute charge and up to about 10 hours with charging for 15 minute via USB.

The engineers and designers at Vox set their sights on developing a guitar that has all the looks and cool-factor of a classic archtop guitar, but was more easily playable and adaptable to a variety of playing styles and environments. The Giuletta's excellent on-board piezo pickup system transforms the typical dull tone of an archtop by providing greater dynamic sensitivity, a more even distribution of lows, mids & highs, and enhanced sustain that rivals your favourite flattop acoustic. The Volume and Tone controls are discreetly located on the pickguard, just like a classic archtop, keeping the look crisp and uncluttered while delivering a wide range of tones to suit any style. There is also a low-cut pot that is adjustable with a small flat blade screwdriver to custom tailor the bass response of your guitar.

The Giulietta VGA-3PS features a compact body size, which makes for a more comfortable and practical playing experience, but also helps reduce feedback and improve the overall tone of the guitar. The real secret of the Giulietta, however, is the innovative patent-pending Vox Hybrid Bridge System.

The Vox Hybrid Bridge System uses a traditional wooden base that features a specially-developed laminated wood/aluminium top section. The compensated one-piece saddle is equipped with a proprietary piezo system that provides quick response and even string-to-string output. Additionally, this unique combination of materials widens the frequency response of the piezo system, adding sparkling high harmonics and also significantly increasing sustain. As an added bonus, this bridge also reduces feedback at high volumes.

Not content to stop there, the designers & engineers at Vox also sought to address another common issue with piezo-equipped archtop guitars; over-ring. This phenomenon occurs when a bridge-mounted piezo pickup amplifies not only the fretted sound, but also the length of string between the bridge and tailpiece, creating an undesirable effect that interrupts your performance. To address this, Vox developed a simple-to-use removable string mute (included with the guitar) that prevents over-ring and leaves you with a pure, clean sound.
Super Capacitor Preamp System
Traditionally, archtop guitars are available either as fully acoustic instruments or with magnetic pickups cut into the top, with all controls mounted in the wood. A different approach was used to give the VGA-3PS greater projection and sustain. The pickup system is contained in the Hybrid Bridge, with the controls suspended in the pickguard, allowing the top to resonate freely without the weight of the electronic components inhibiting its true vibration. The wide range, low noise preamp system is also integrated into the pickguard. The jack assembly on the side of the guitar features a ¼" output jack and a mini USB jack for connecting the included USB cable for charging the Super Capacitor Preamp System.
Compact Size, Big Tone
Full-size archtop guitars look great, but their large size can make them uncomfortable for many players. These guitars are also notoriously susceptible to feedback at stage volume. By carefully balancing the smaller single cutaway body size and full-scale neck, Vox has been able to create a modern instrument that any player can appreciate, regardless of style.
Available Models:
VGA-3PS Natural
VGA-3PS Trans Red
VGA-3PS Trans Black
Body: Laminated Spruce arched top. Laminated Mahogany sides and back.
Neck: Set Mahogany, tilt headstock
Fingerboard: Baked Jatoba (stabilized through special drying process)
Position markers: Pearloid dot
Binding: Body top and back
Fingerboard Radius: 310mm
Neck shape: "C" Shape
Scale Length: 24 3/4" (628 mm)
Number of Frets: 22
Fret Size: Medium jumbo
Nut Width: 42 mm (1.65in.)
Pickups: Piezo Pickup under Bridge Saddle
Preamp: Super Capacitor with USB quick charging feature
Bridge: Hybrid System with wood/aluminum construction
Controls: Master Volume- pickguard mounted, Master Tone- pickguard mounted, Active/Passive Switch to turn off preamp, Low Cut trim pot, adjusted with small flat blade screwdriver
Outputs: Guitar output jack (1/4″ phone type)
Inputs: Mini USB for charging
Accessories: Owner's Manual, Adjustment wrench, Mini USB charging cable, Gig bag

Specifications and features are subject to change without notice.
All new products are sold with a 2-year manufacturer warranty which is upgraded to 3 years when bought direct from Vox Amps UK. Certified Refurbished products also come with a one year warranty. 
We offer a 30-day returns period on all products purchased directly from Vox Amps UK.