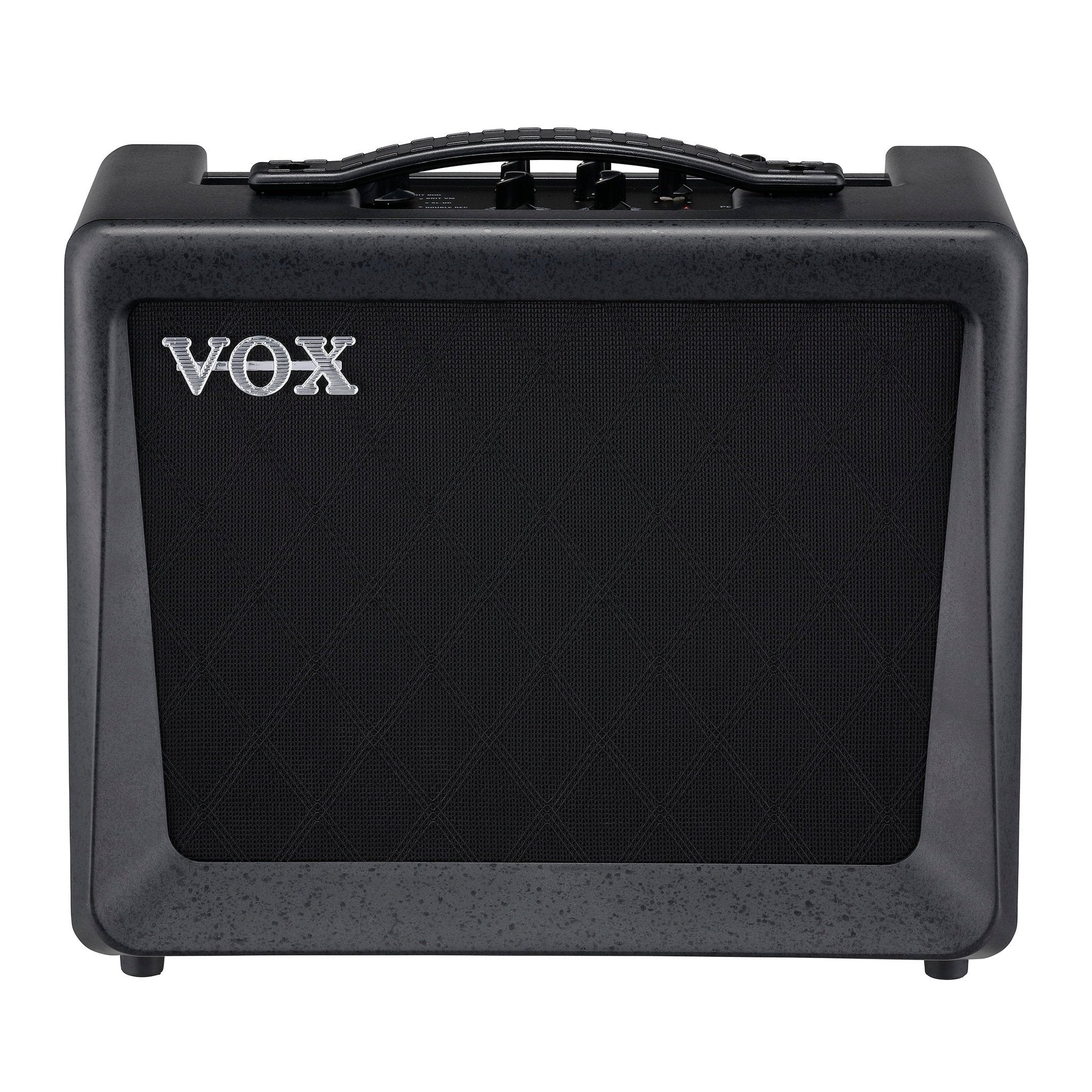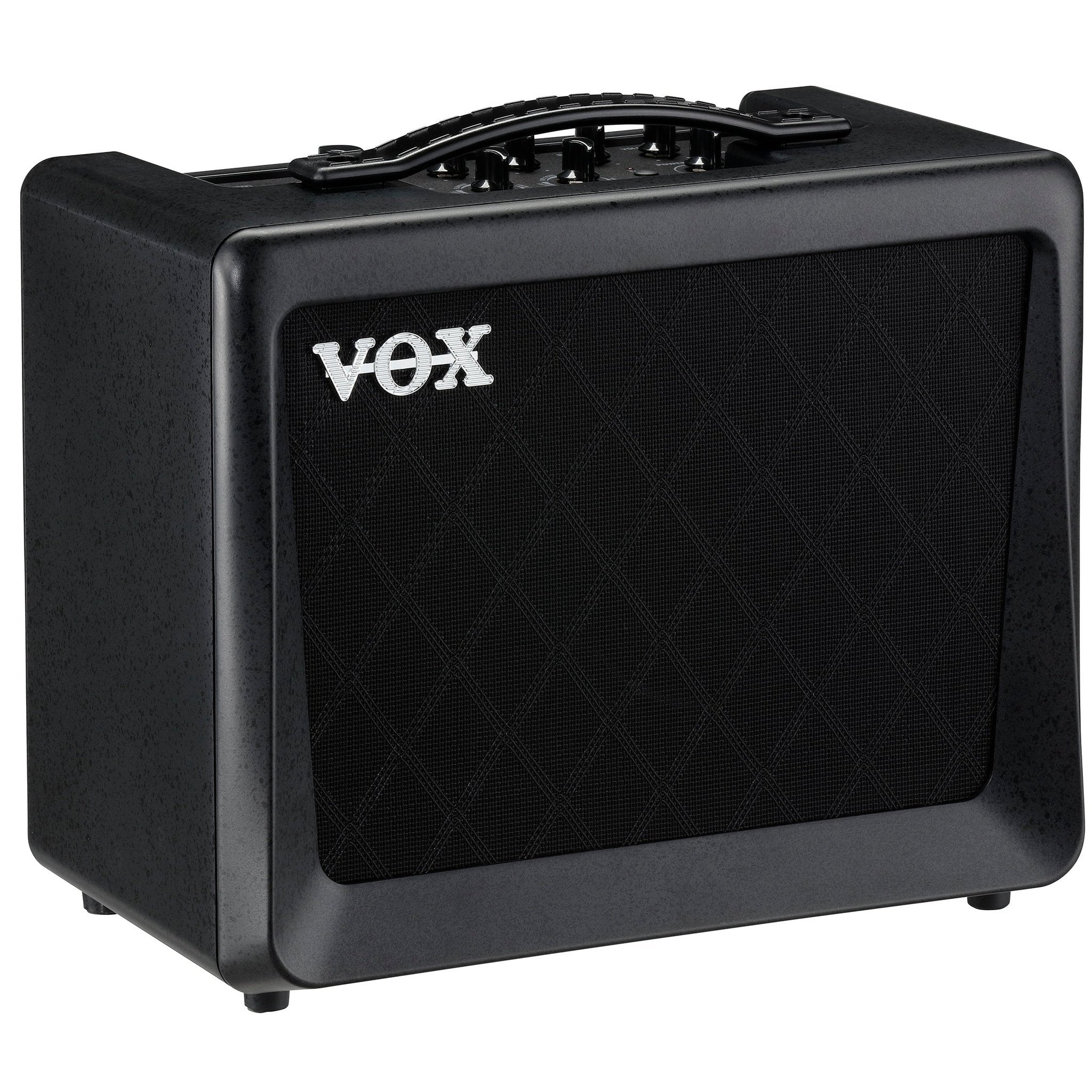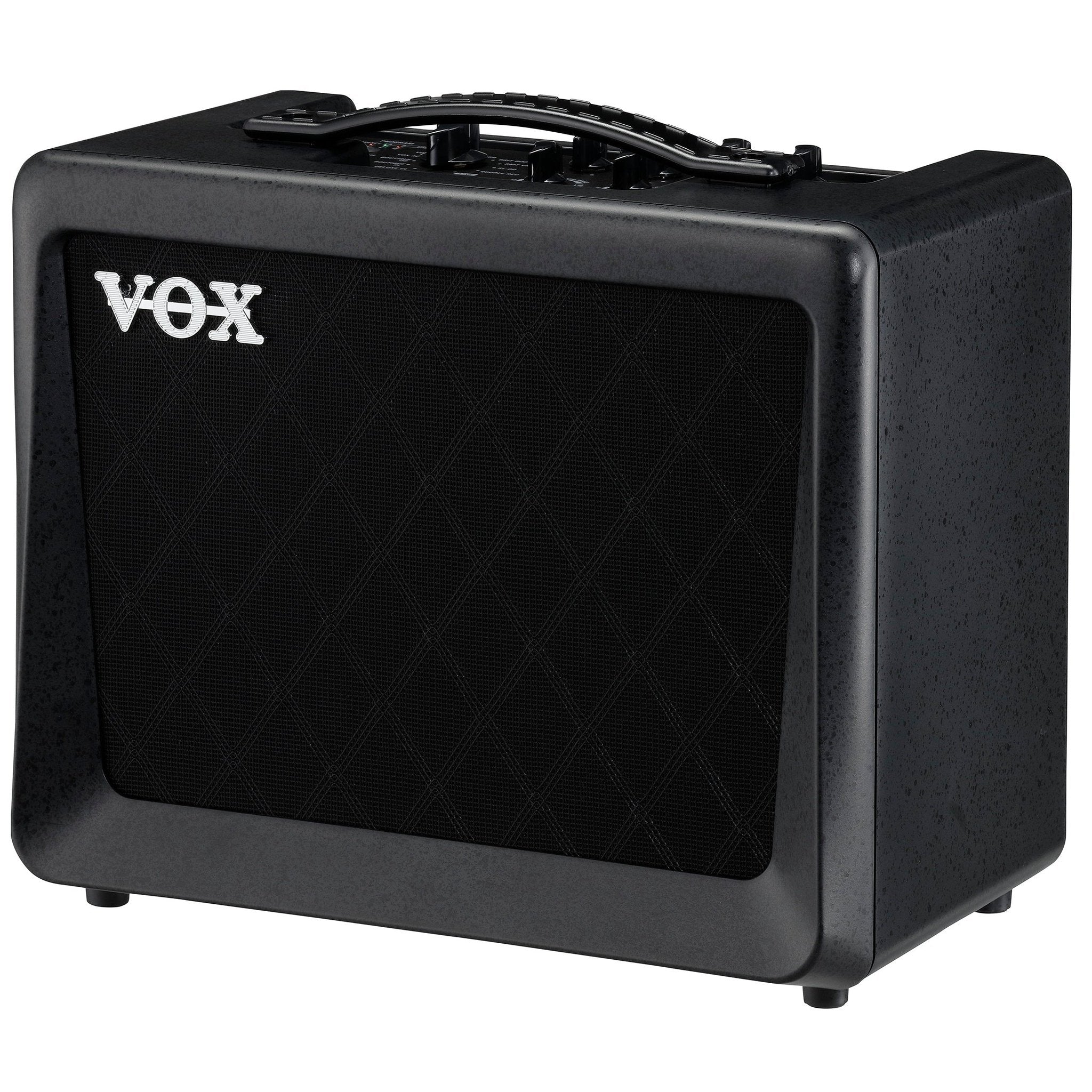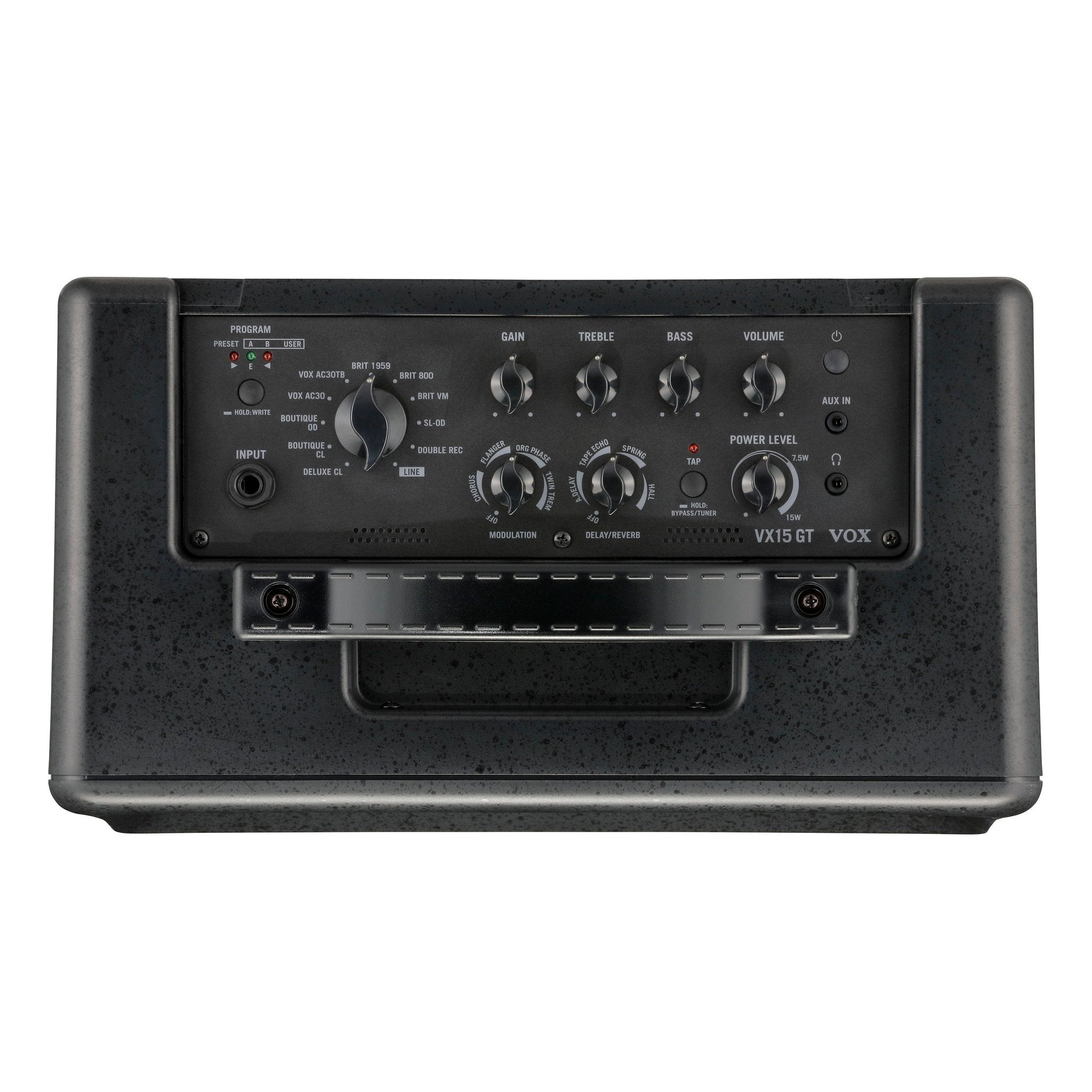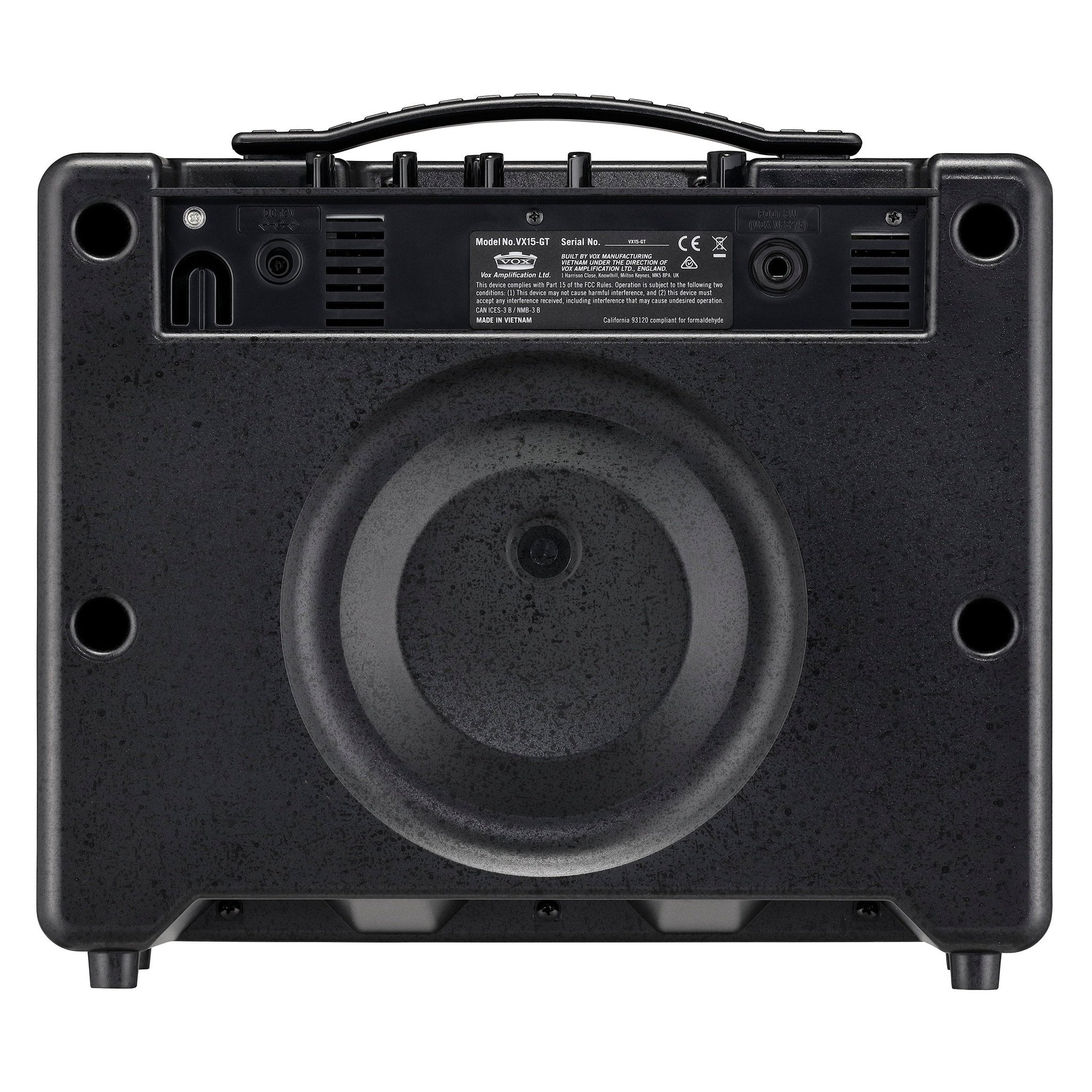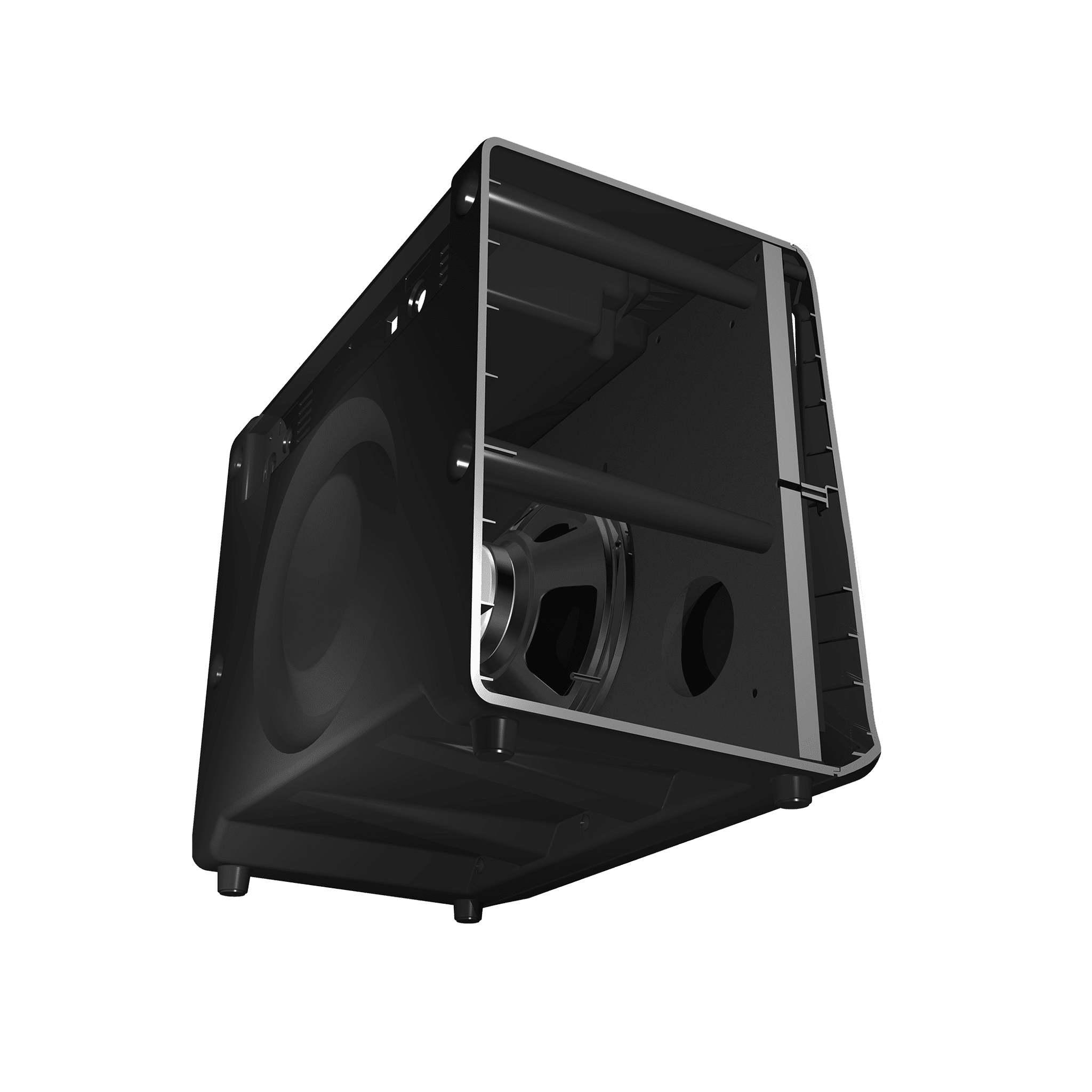 VX15 GT Guitar Amp
VX15 GT is born from a desire to open up new possibilities for guitar amps. A design that's lightweight, with an internal structure carefully calculated for the optimal sound and realistic modelling technology, you can curate incredible tones with unbeatable portability.
Extend your warranty for free when buying direct from Vox Amps UK. Find out more.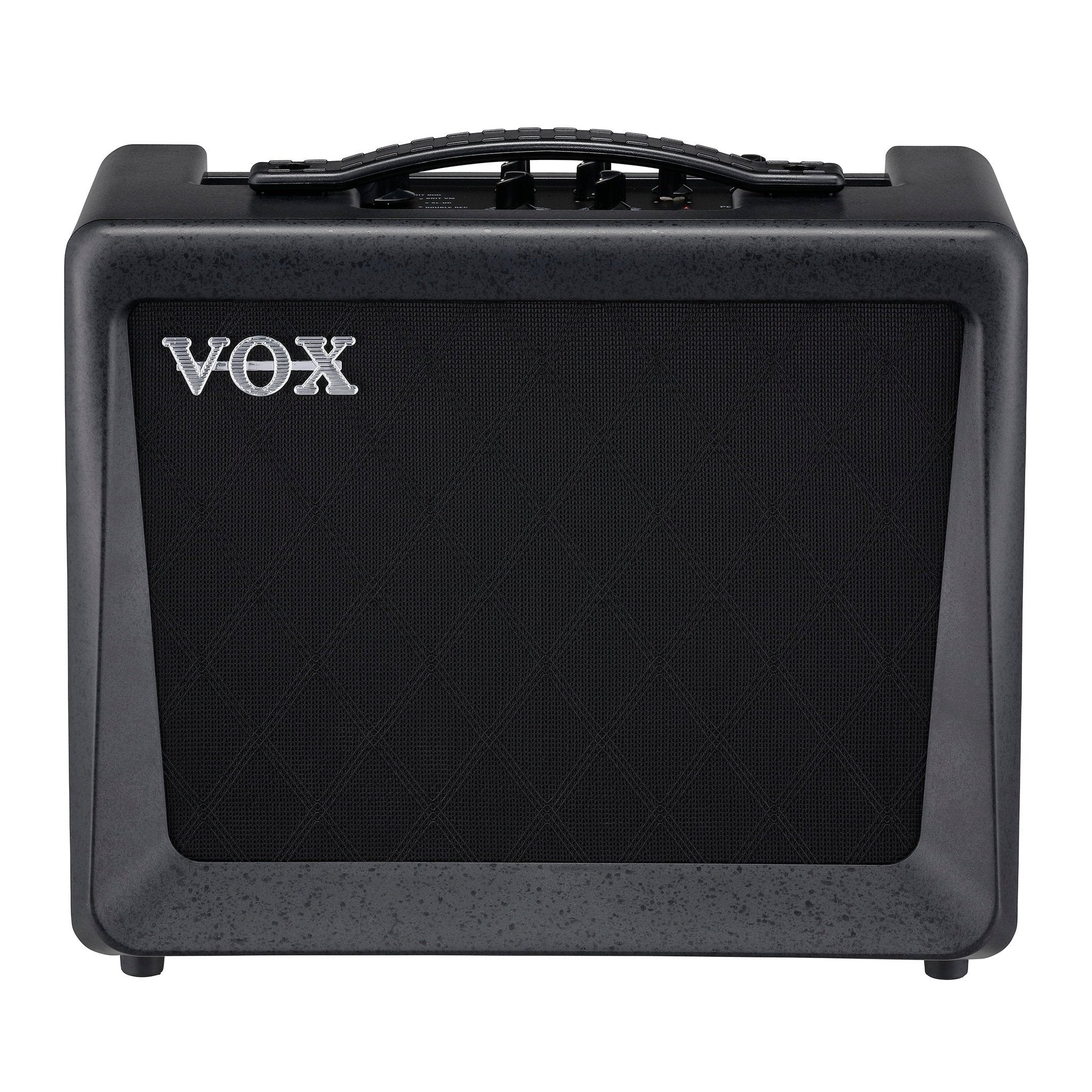 A Comprehensive Range of 11 Amplifier Models, Finely Tuned to Perfection
With years of expertise in creating modelling amplifiers, VOX presents unparalleled sound quality. Our proprietary VET (Virtual Element Technology) offers unmatched realism by not only replicating the audible outcome but also by reconstructing the original circuitry. This involves meticulous modelling of each individual component that influences the sound. Beyond the iconic AC30, this single unit accommodates an array of tonal variations, encompassing renowned tube amplifiers, contemporary high-gain amps, and elusive boutique options. A newly integrated LINE type caters to both electric and acoustic guitars, thus enhancing the unit's versatility.
A Comprehensive Suite of Eight Essential Effect Types
This unit includes an extensive array of effect types crucial for crafting your sound. It allows concurrent use of both modulation and delay/reverb types, offering four variations for each, totalling eight different effects. This grants you the flexibility to fine-tune your overall guitar tone. Furthermore, an intuitive tap button allows for easy parameter adjustments, such as delay time.
Ingeniously Engineered Internal Structure for Optimal Acoustic Performance
You'll be astonished from the moment you pick up this lightweight unit. Achieving an ultra-light design, the VX15 GT does not compromise on sound quality. Utilising a sealed ABS body with superior acoustic properties, the unit minimises unwanted vibrations, maximising sound projection efficiently. The bass-reflex architecture ensures robust low-frequency coverage, eradicating any sense of power deficiency commonly associated with smaller amplifiers.
Exceptionally Portable VX15 GT
Ready to perform at any venue, the 15W VX15 GT matches its higher-end sibling, the VX50 GTV, in terms of amplifier and effect options, offering excellent sound quality. It sets a new benchmark for amps that facilitate full-scale guitar performance without any hassle.
Distinctive Design in Line with Cutting-Edge Specifications
The aesthetic sophistication synonymous with VOX is unmistakably present in these models. Complementing the complex, three-dimensional design enabled by ABS unibody construction, the unit pairs a stone-coloured body with a black diamond grill cloth, achieving a subtly balanced visual appeal.
Tuner and Additional Support Functions
A tuner is merely one of several features providing all-encompassing support for the guitarist. The AUX input enables jamming alongside external audio tracks, whilst the headphone/line-out jack comes with a built-in cabinet simulator, ideal for home practice. The preset mode lets you effortlessly recall stage-ready tones, and a manual mode ensures the settings correspond with the physical knob positions.
Optional Footswitch for Enhanced Functionality
The footswitch, available for separate purchase, allows for effortless programme changes via foot operation. When connected to the VFS5, programme memory expands to eight types, offering perfect support for your live performances.
OUTPUT POWER

15 Watts RMS
4 Ohms

---

SPEAKER

1 x 6.5″ Standard Speaker

---

INPUTS

1 x Normal Input Jack
1 x Aux In Jack
1 x Footswitch Jack

---

OUTPUTS

1 x Headphone Jack

---

CONTROLS

Amp Selector, Volume, Gain, Treble, Bass, Power Level, Modulation, Delay/Reverb, Program Selector

---

AMP MODELS

11 (10 + Line)

---

EFFECTS

Modulation (Chorus, Flanger, Org Phase, Twin Tremolo), Delay/Reverb (A. Delay, Tape Echo, Spring, Hall)

---

PROGRAMS

11 x Preset
2 x User (using the VFS5 foot switch increases the number of user programs to 8)

---

SIGNAL PROCESSING

A/D conversion: 24-bit
D/A conversion: 24-bit

---

SAMPLING FREQUENCY

44.1 kHz

---

DIMENSIONS

354 x 208 x 313 mm / 13.94 x 8.19 x 12.32 inches
3.8 kg / 8.38 lbs

---

ACCESSORIES (SOLD SEPARATELY)

VFS2 Foot Switch
VFS5 Foot Switch

Specifications and features are subject to change without notice.
All new products are sold with a 2-year manufacturer warranty which is upgraded to 3 years when bought direct from Vox Amps UK. Certified Refurbished products also come with a one year warranty. 
We offer a 30-day returns period on all products purchased directly from Vox Amps UK.