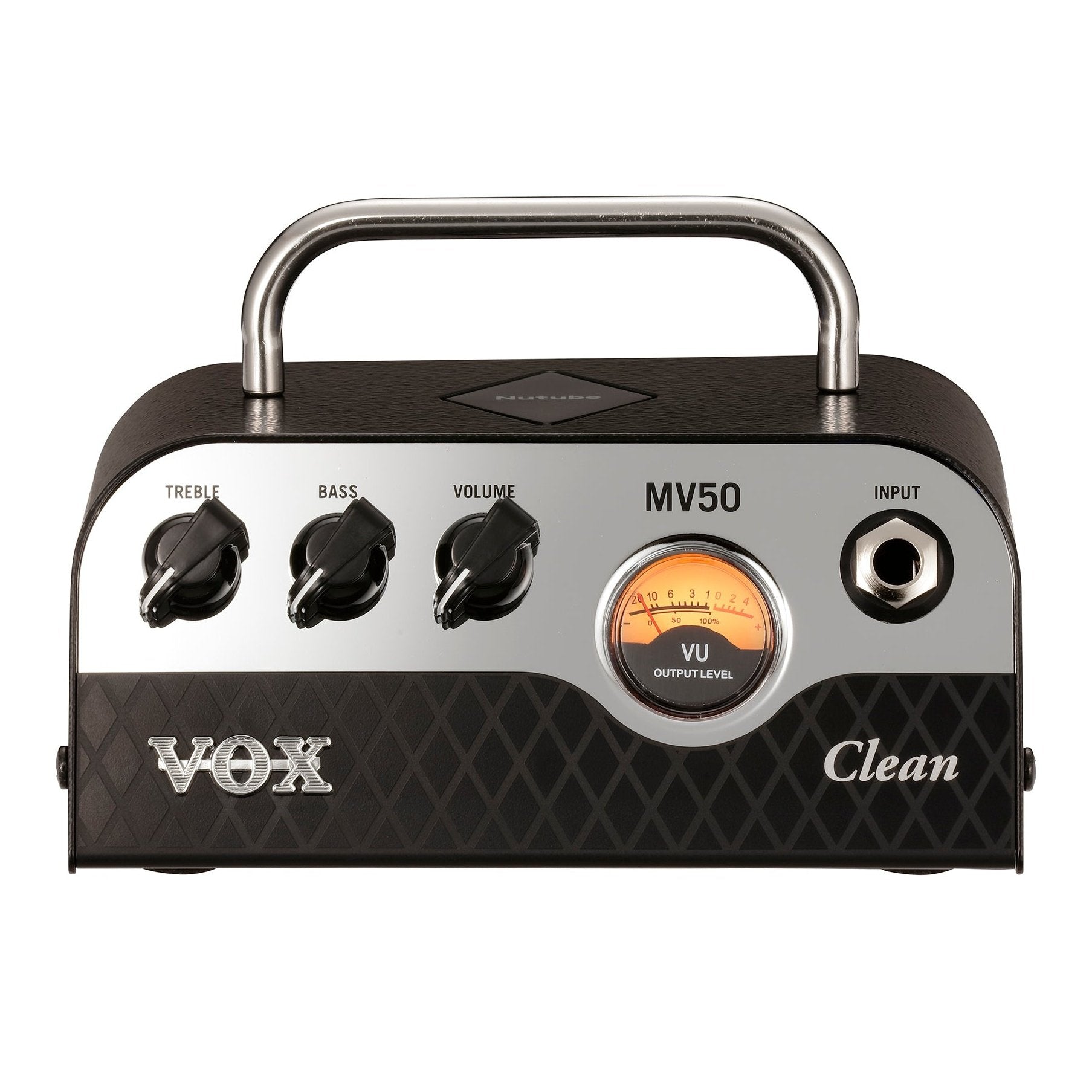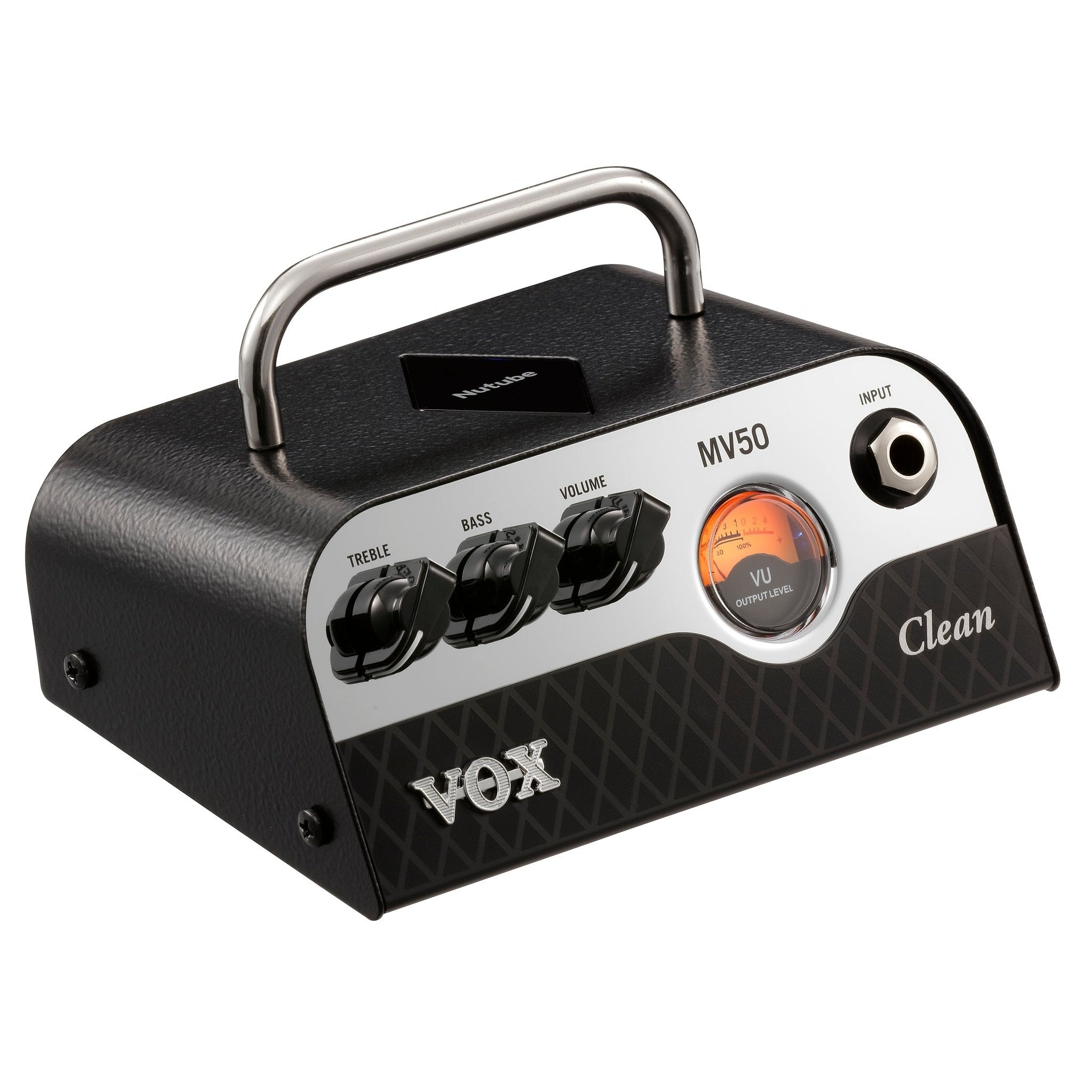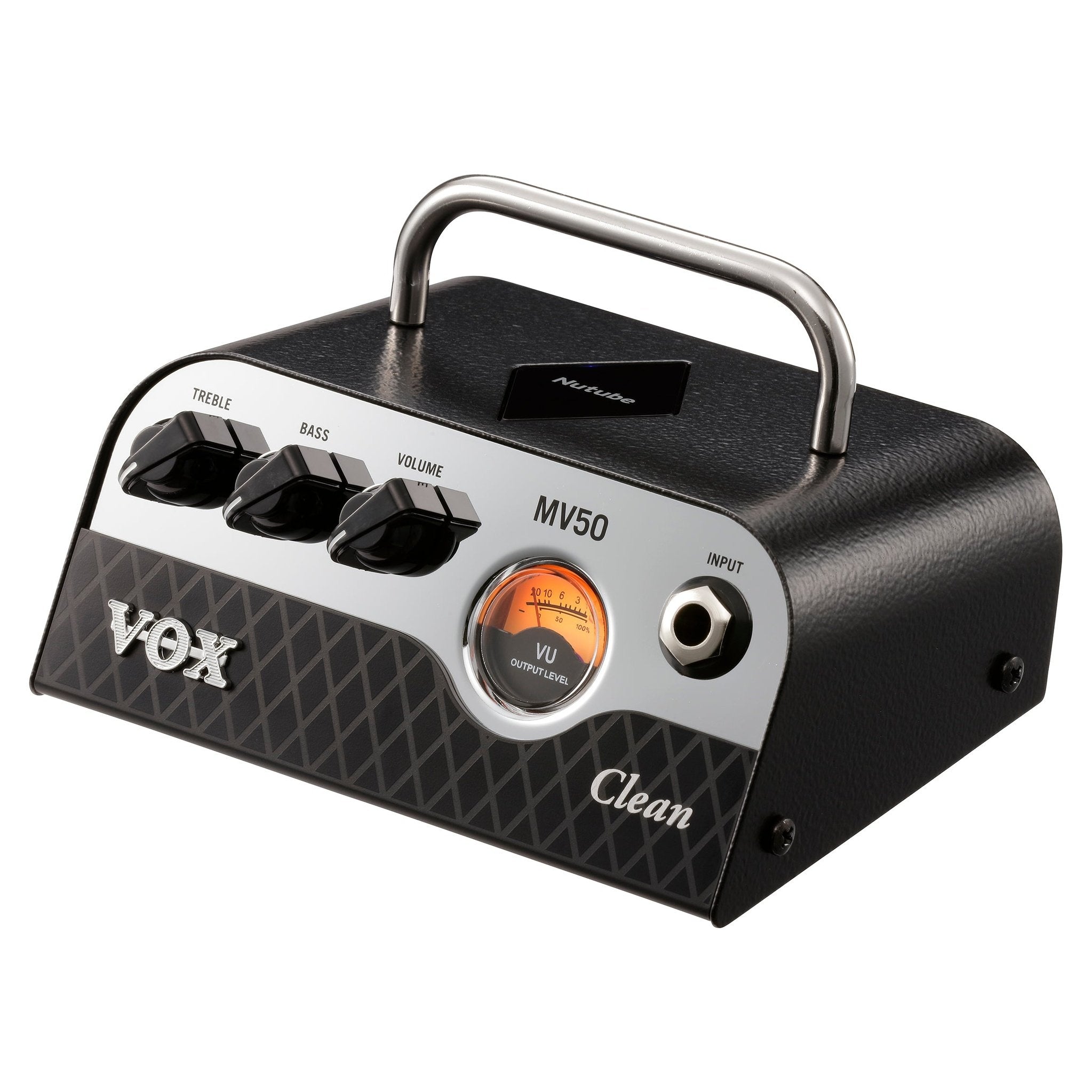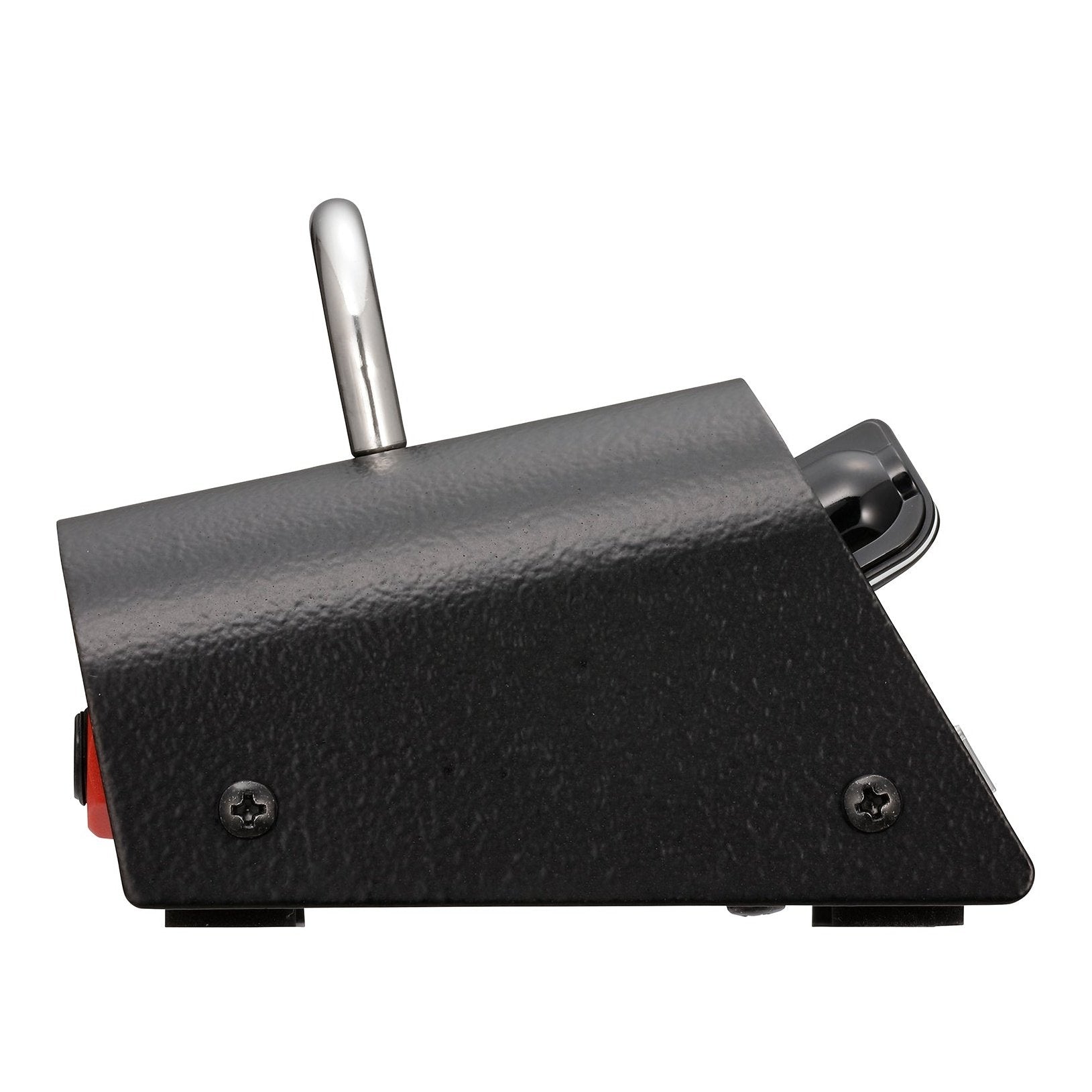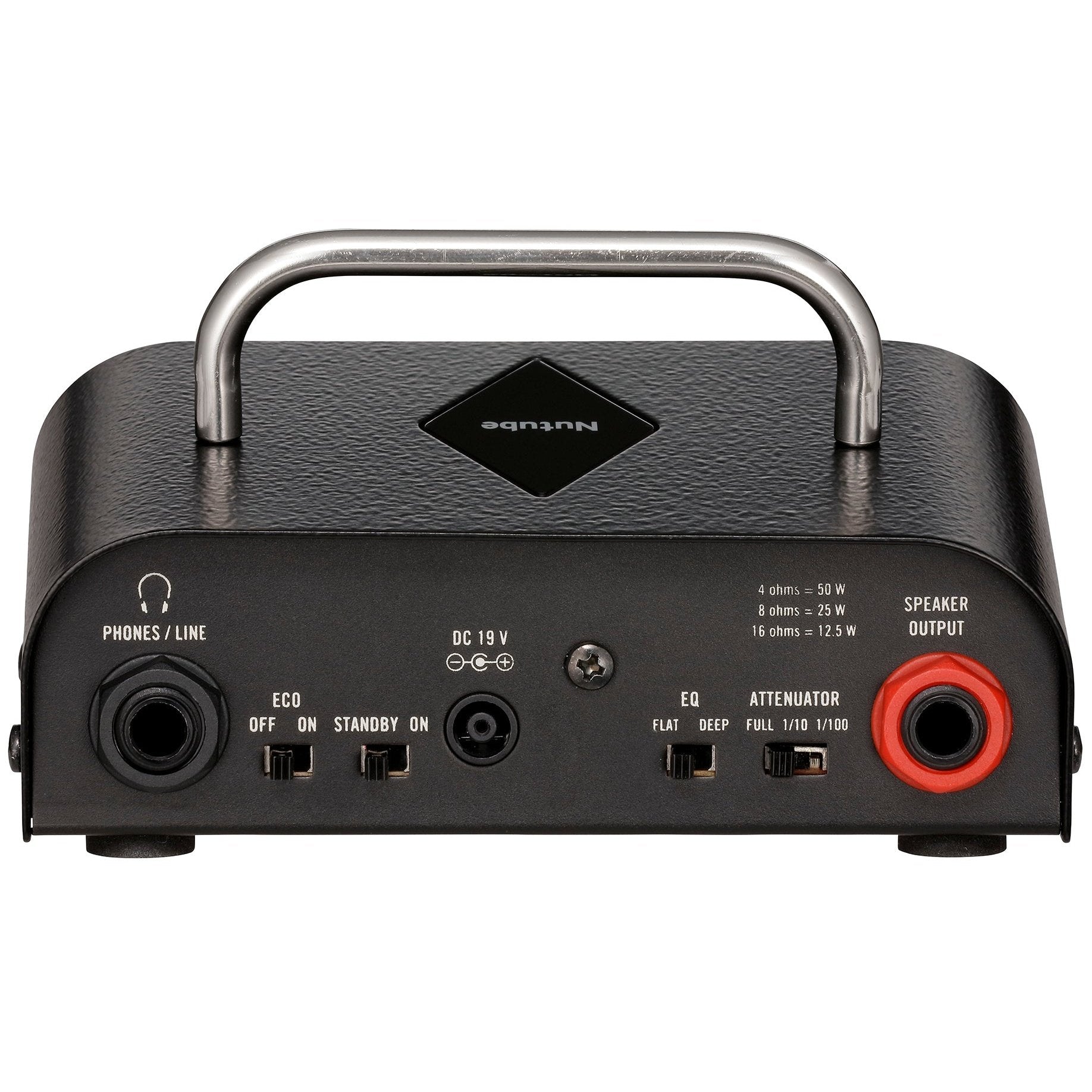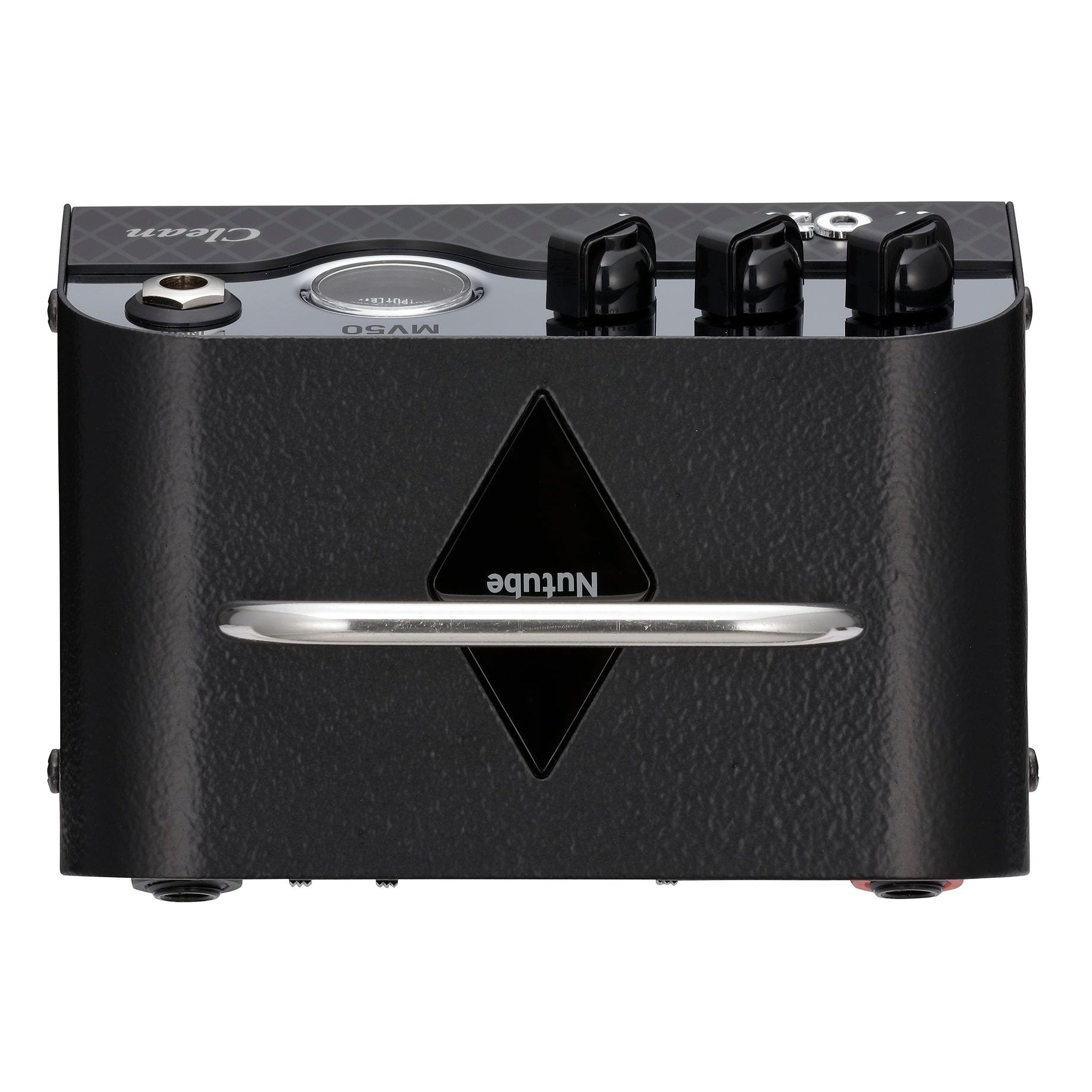 MV50 Guitar Amp Head - CLEAN
Designed with an emphasis on analogue, the MV50 combines a classic amplifier design with innovative production techniques to produce a miniature amplifier with a huge sound. With 50 watts of power, it serves up serious guitar tone that's reminiscent of old tube amps. Perfect for the stage, at home, or in the studio for direct recording.
Extend your warranty for free when buying direct from Vox Amps UK. Find out more.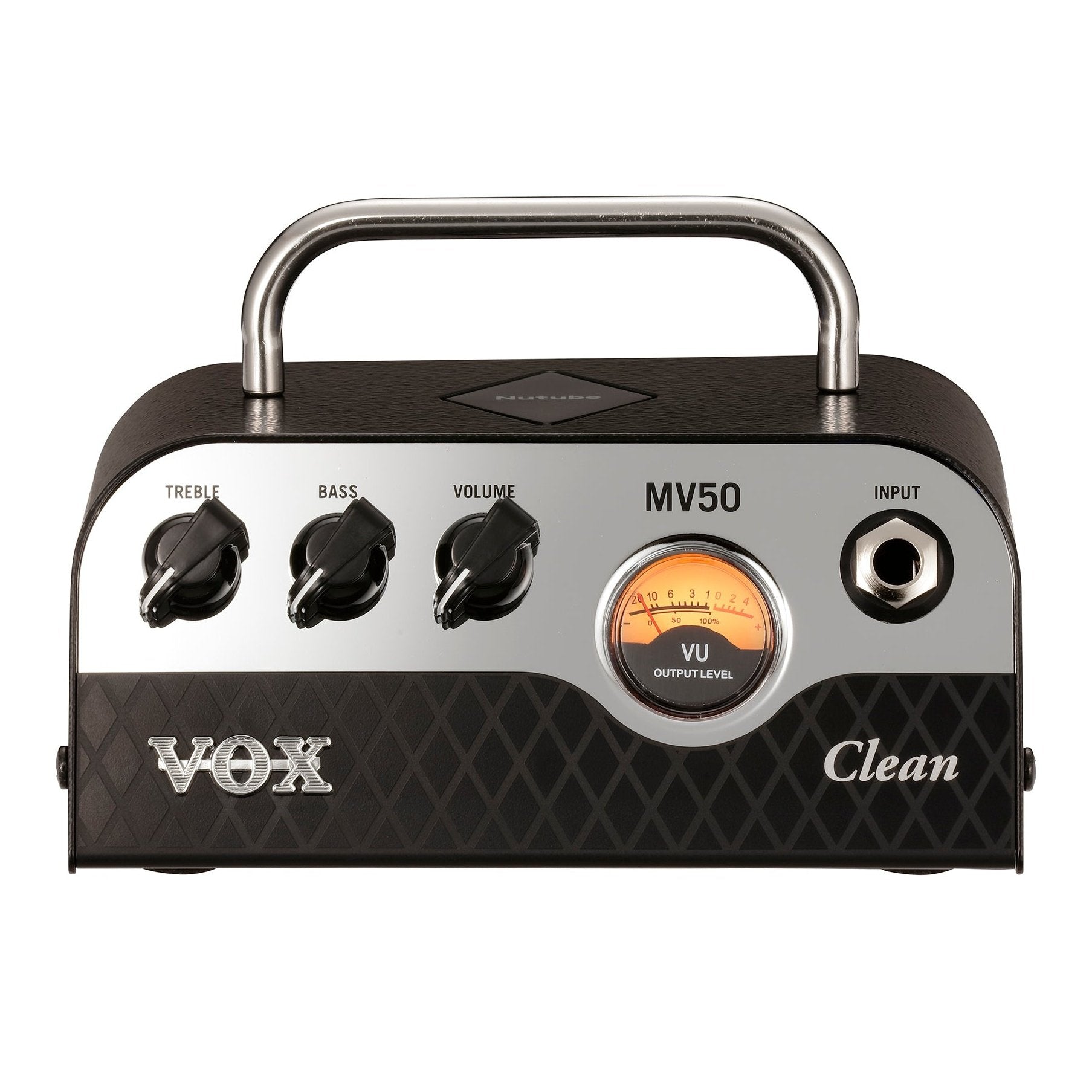 Designed with a focus on analogue, Vox's MV50 merges traditional amplifier design with innovative manufacturing methods to create a miniature amplifier with impressively formidable sound. Offering a staggering 50 watts of power, this one-pound unit delivers a guitar tone that evokes fond memories of your favourite vintage valve amplifiers. With both speaker and line/headphone outputs, the MV50 is ideal for use on stage, at home, or in the studio for direct recording.
The MV50 is outfitted with an all-analogue pre-amp circuit featuring Nutube, a groundbreaking new vacuum tube that generates authentic valve tone while being significantly smaller. By utilising this cutting-edge technology, Vox's engineers were able to create a true, miniaturised valve amplifier. Beyond incorporating Nutube, the pre-amp circuit in the MV50 includes an extensive array of analogue components that faithfully capture the dynamic character of a classic valve amp. Accompanying this inventive pre-amp circuit is a dependable and efficient Class D power amp, specifically tailored for the MV50. From warm, natural cleans to dynamic overdrives, this power amp is engineered to respond to the subtleties of your guitar and, naturally, your playing technique.
Though conceived with the compact BC108 in mind, the MV50 pairs well with nearly any speaker cabinet. The EQ switch located at the back of the amplifier offers two distinct settings: FLAT and DEEP. When connected to a smaller cabinet like the BC108, setting the amplifier to DEEP mode accentuates the rich low-frequency range and prevents the higher frequencies from becoming overly pronounced. Conversely, when connected to a larger, more conventional speaker cabinet, the FLAT mode allows you to fully exploit the characteristics of the cabinet without artificially boosting or diminishing any frequency range.
When it's time to practise or record, the MV50's line/headphone out can be routed directly to a mixer, audio interface, or your preferred set of headphones. Vox's design team collaborated with highly seasoned recording engineers and employed only the most exceptional microphones and vintage pre-amps to craft the cabinet simulation circuit in the MV50. This ingeniously designed circuit enables you to record or practise with studio-grade sound, wherever and whenever you wish.
Audio
MV50 SPECIFICATIONS

INPUT/OUTPUT JACKS:

INPUT x 1, LINE/PHONES x 1, SPEAKER OUT x 1

PREAMP:

Nutube 6P1

OUTPUT POWER

:Max 50W RMS@4Ω, 25W RMS@8Ω, 12.5W RMS@16Ω

POWER SUPPLY:

AC adapter DC19V

CURRENT CONSUMPTION:

3.43A

DIMENSIONS

(W x D x H): 135mm x 100mm x 75mm/5.31" x 3.94" x 2.95"

WEIGHT:

540g/1.19lbs.

INCLUDED ITEMS:

AC adapter

BC108

SPEAKER:

1 x 8″ VOX original 8ohm

INPUT JACK:

2 x Input jack

MAX INPUT:

25Wrms

DIMENSIONS

(W x D x H): 260 x 200 x 285mm/10.24″ x 7.87″ x 11.22″

WEIGHT:

3.9 kg/8.60 lbs.

INCLUDED ITEMS:

Speaker cable

Specifications and features are subject to change without notice.
All new products are sold with a 2-year manufacturer warranty which is upgraded to 3 years when bought direct from Vox Amps UK. Certified Refurbished products also come with a one year warranty. 
We offer a 30-day returns period on all products purchased directly from Vox Amps UK.