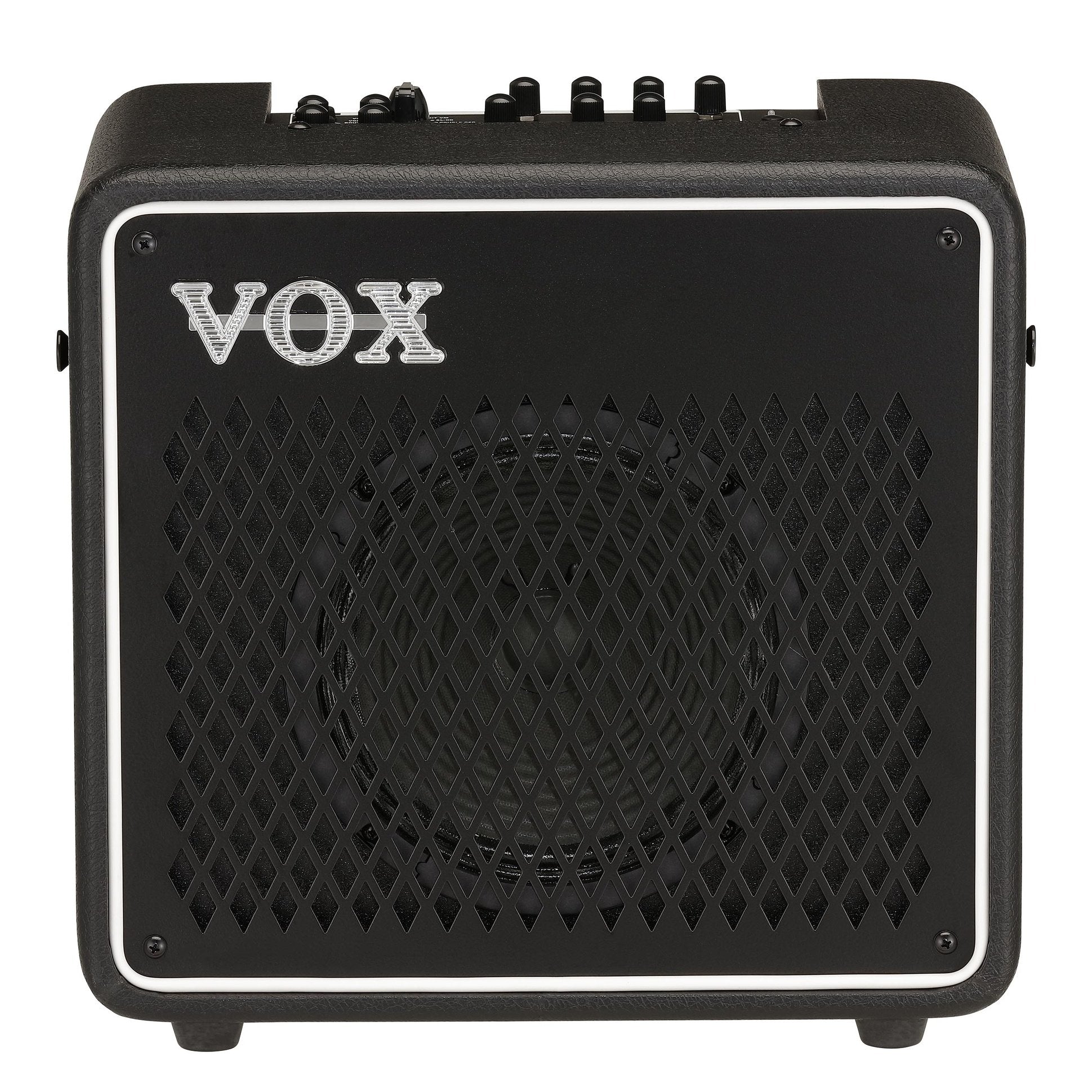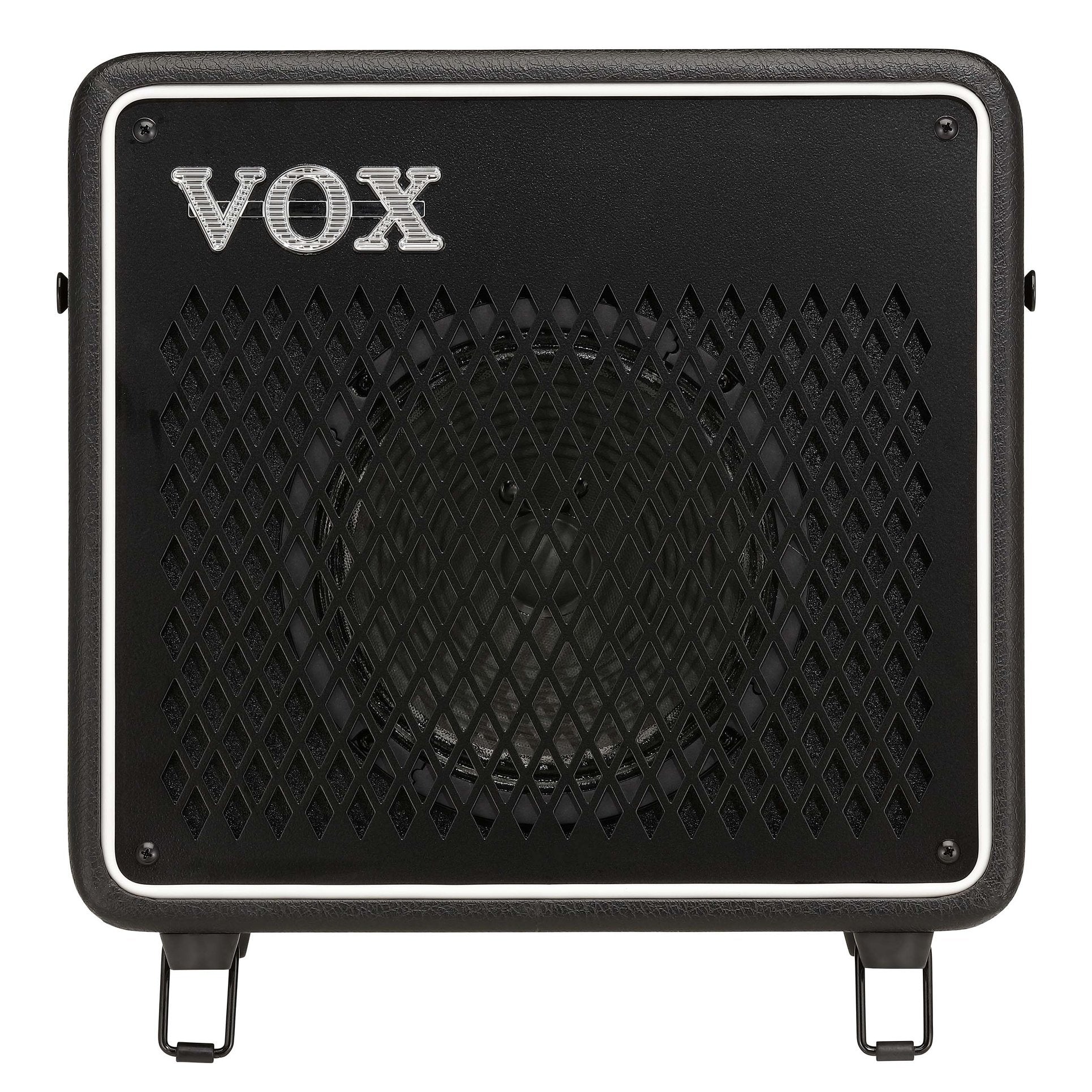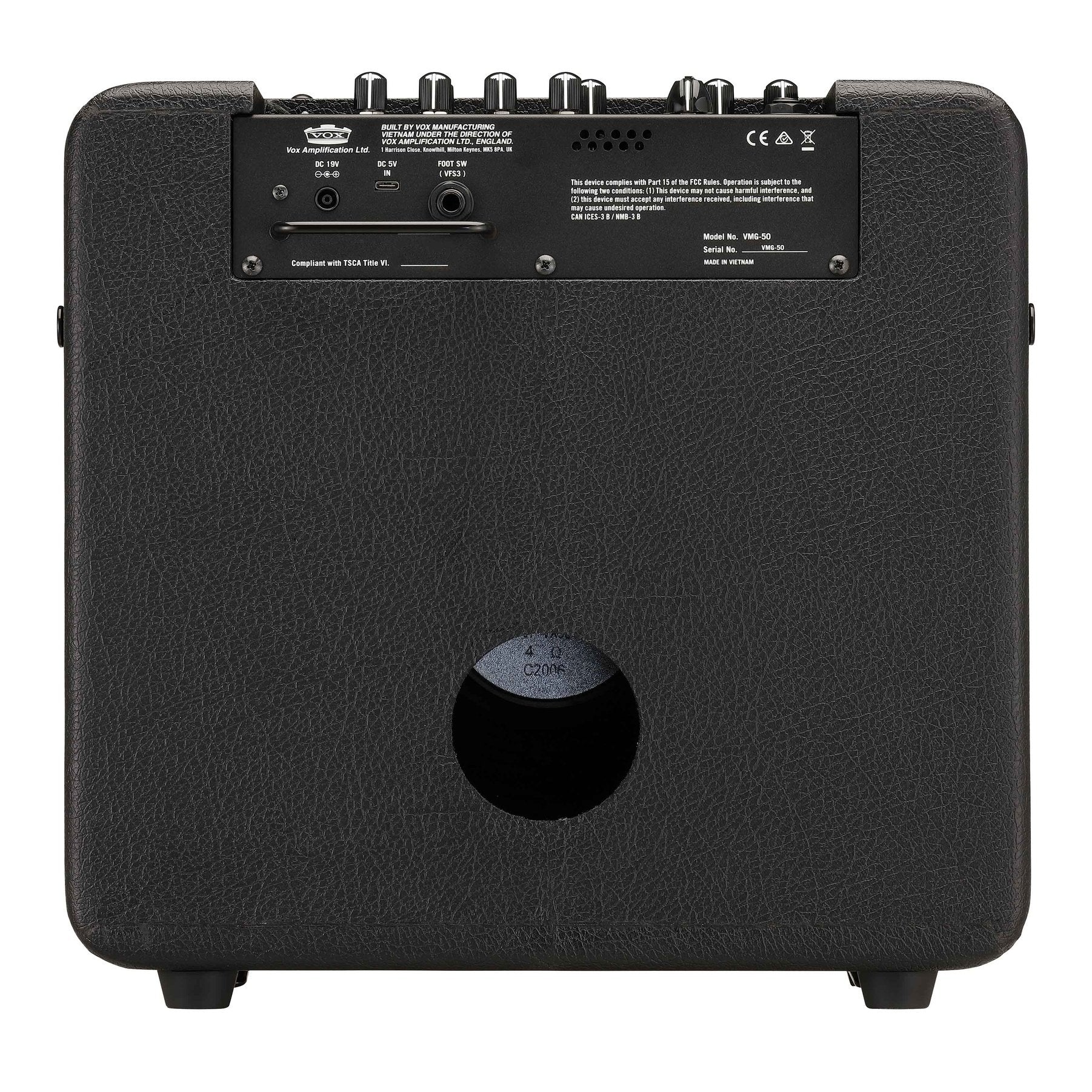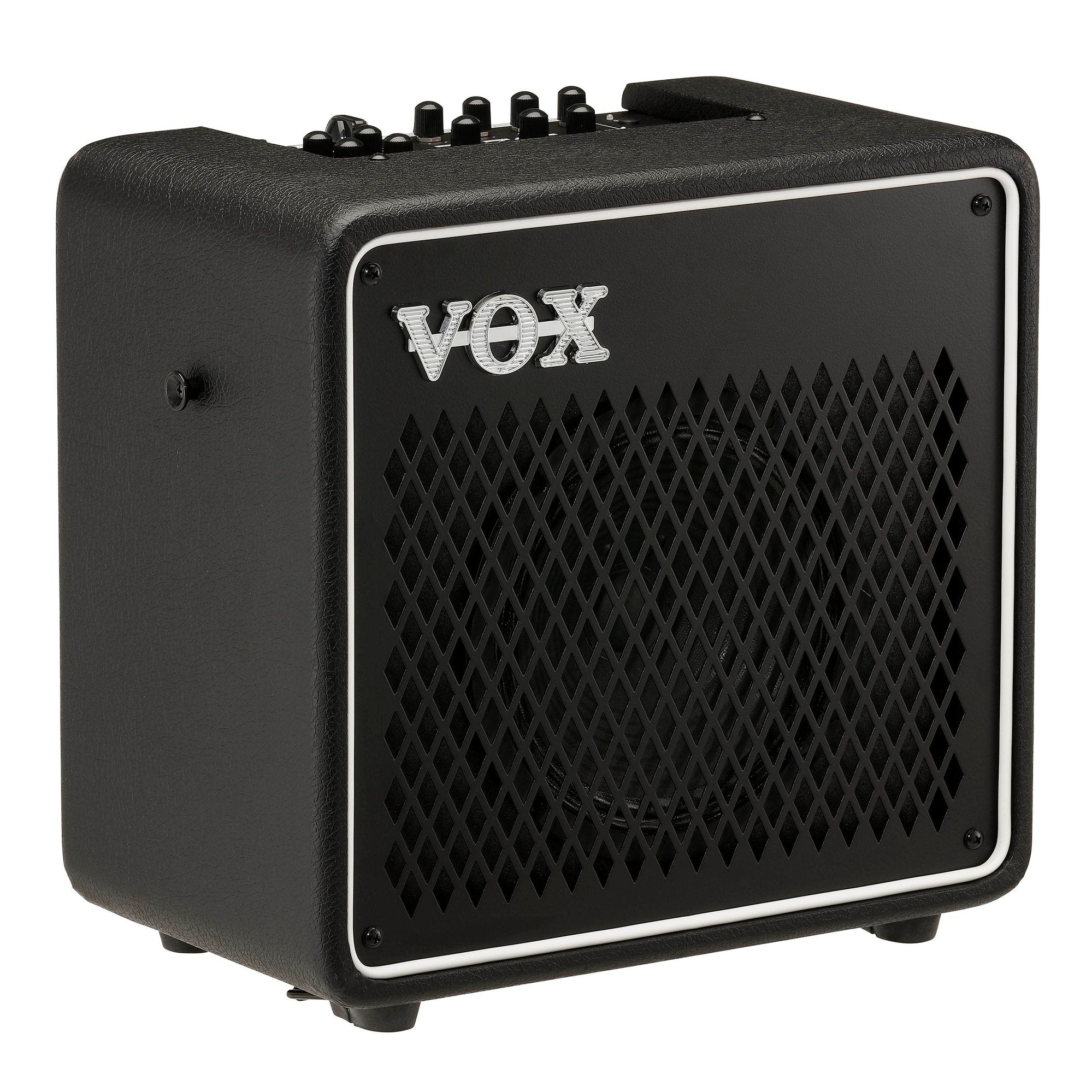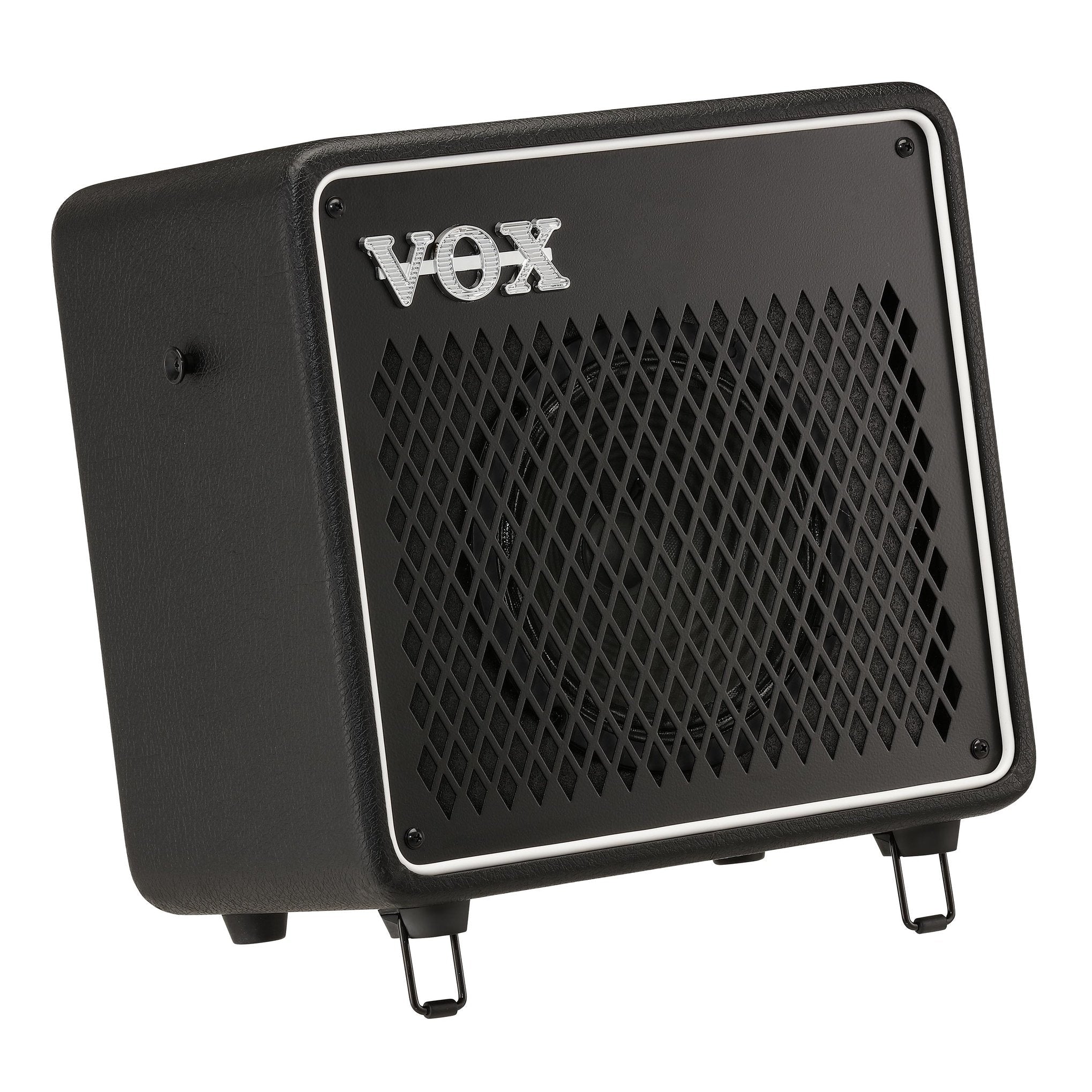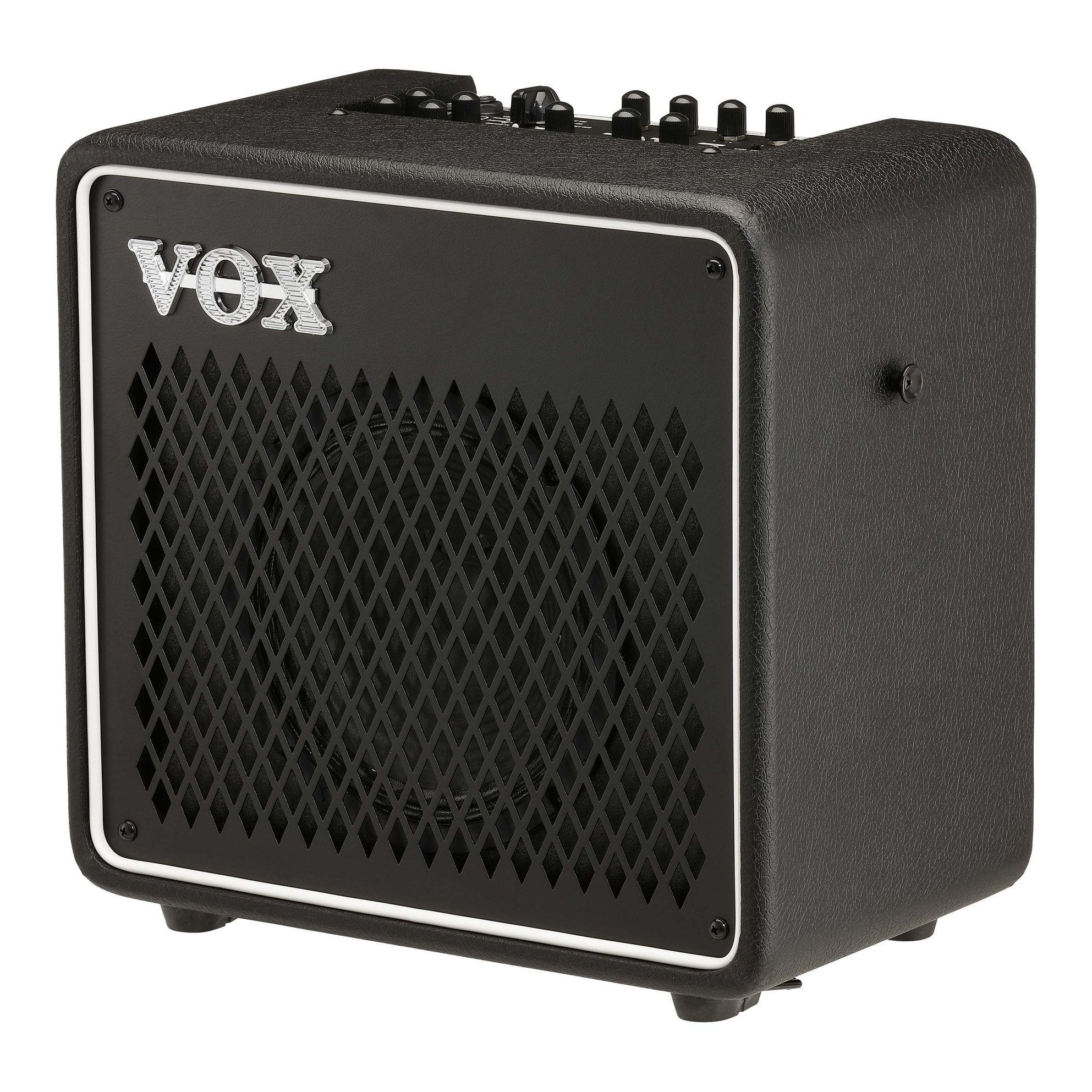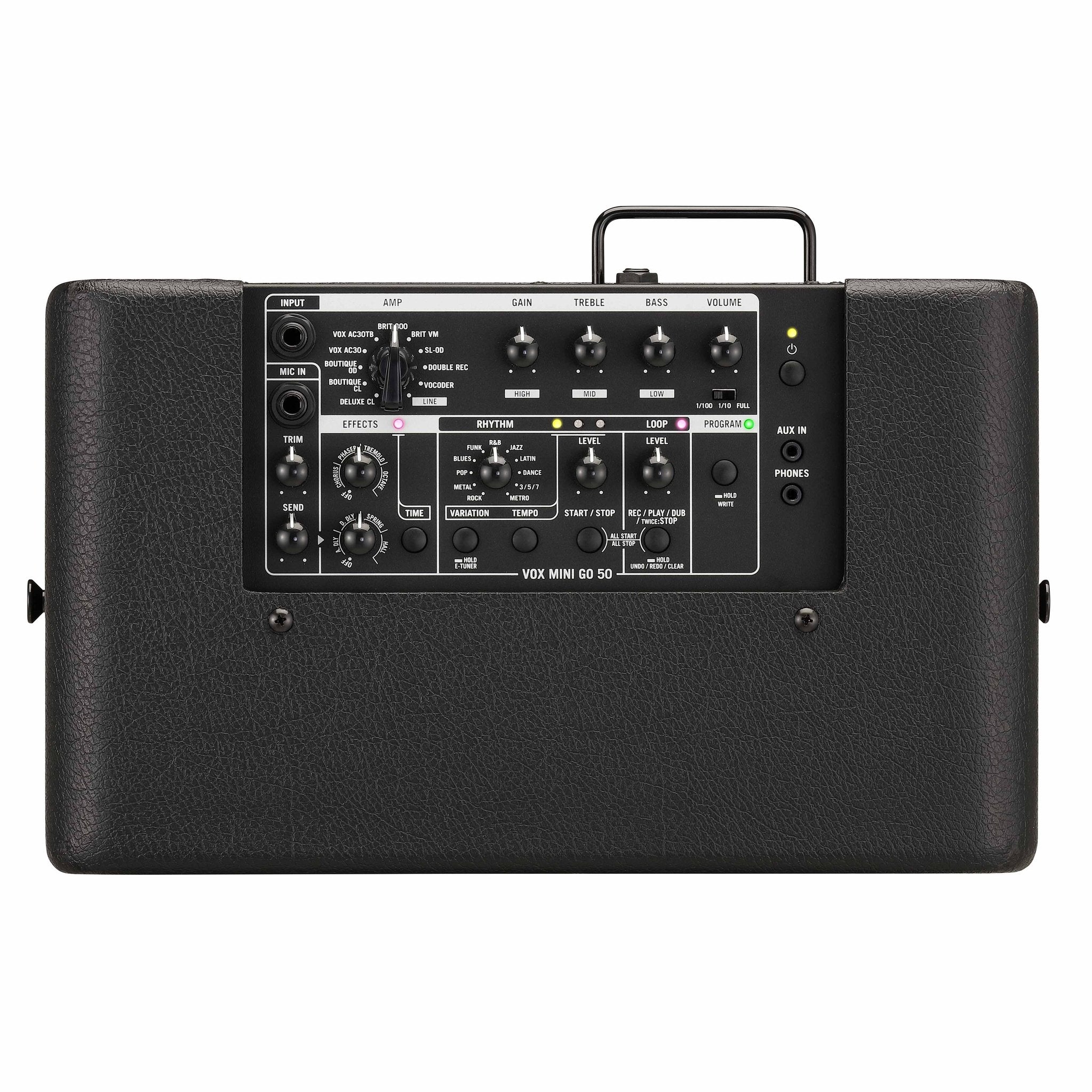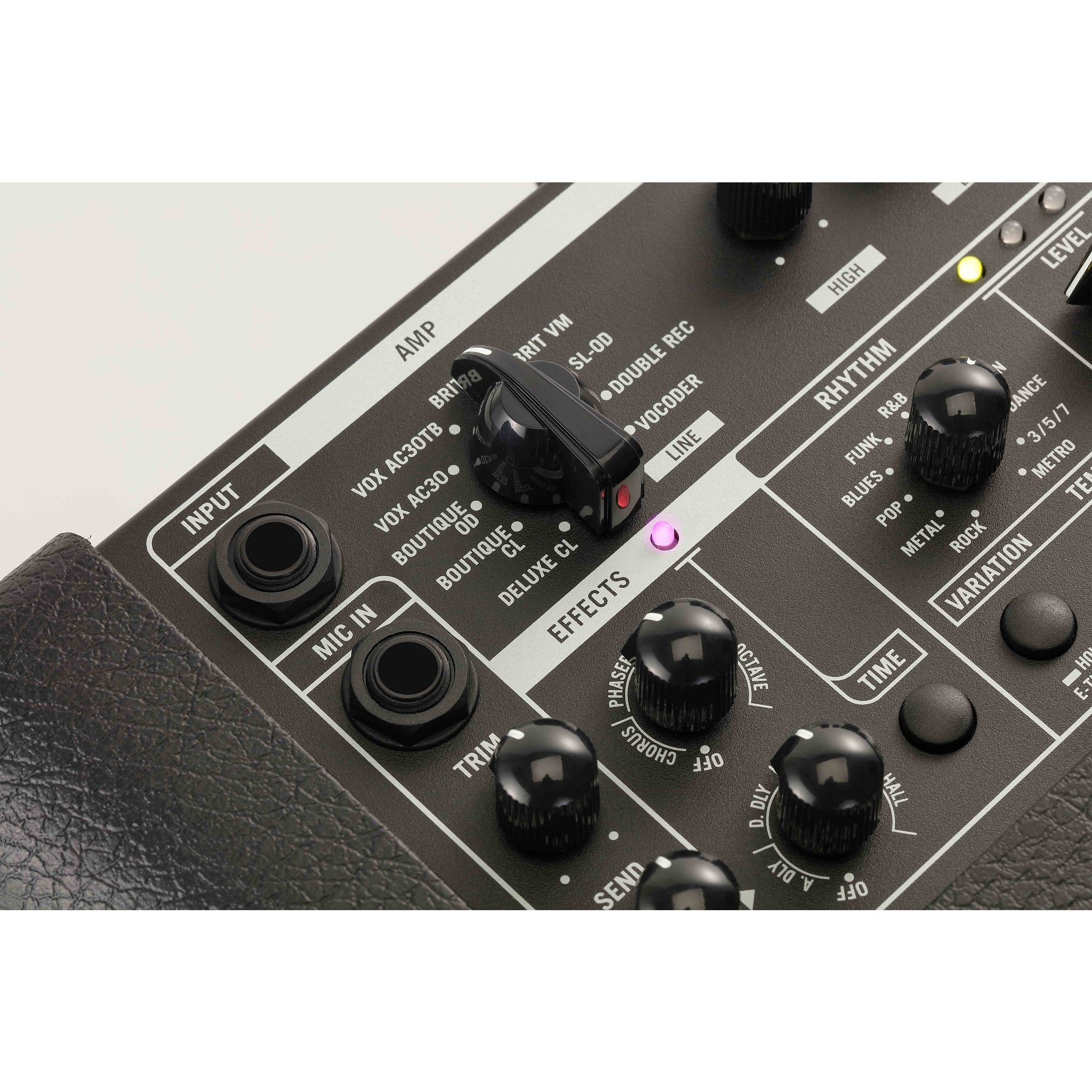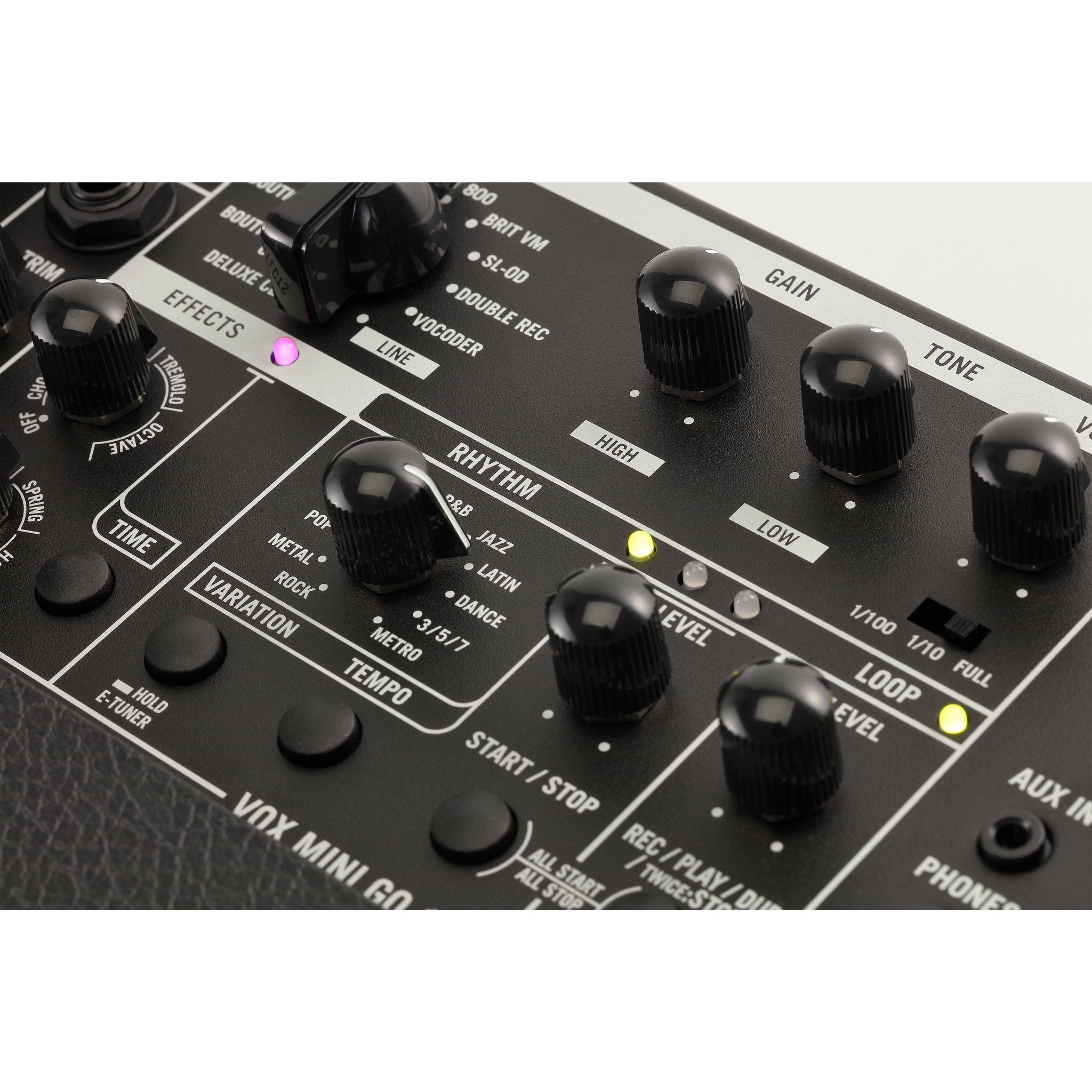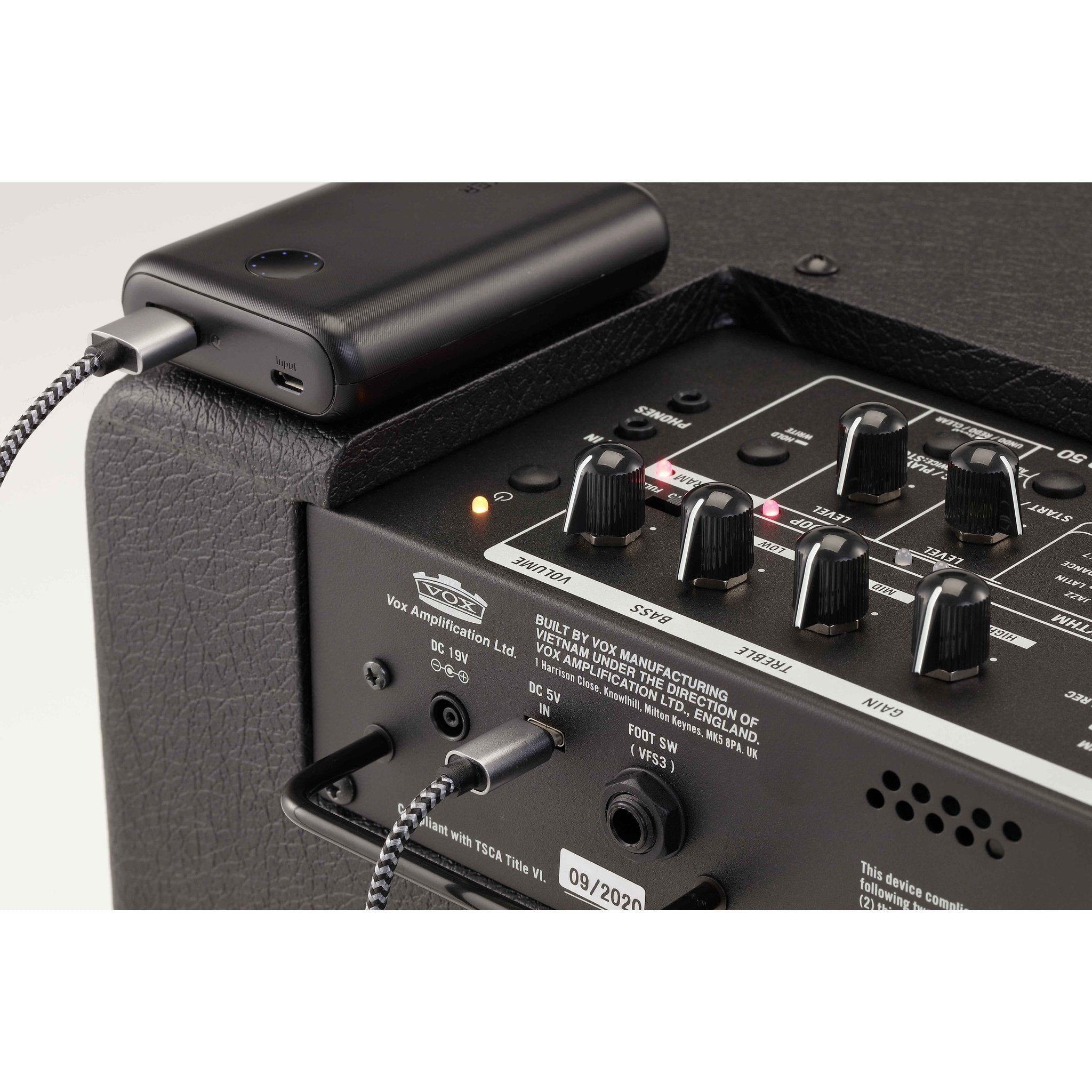 Refurbished VMG-50 - Mini Go 50 Portable Amp
The Vox Mini Go 50 guitar amp can be taken with you everywhere you go. The VMG-50 is lightweight, compact and can be powered by a mobile battery. The Mini Go 50 features powerful and amp models, a newly developed vocoder and onboard effects, a mic input, aux input, a headphone jack and a rhythm machine.
All Certified Refurbished Vox products come with the reassurance of a 1-year warranty. Find out more.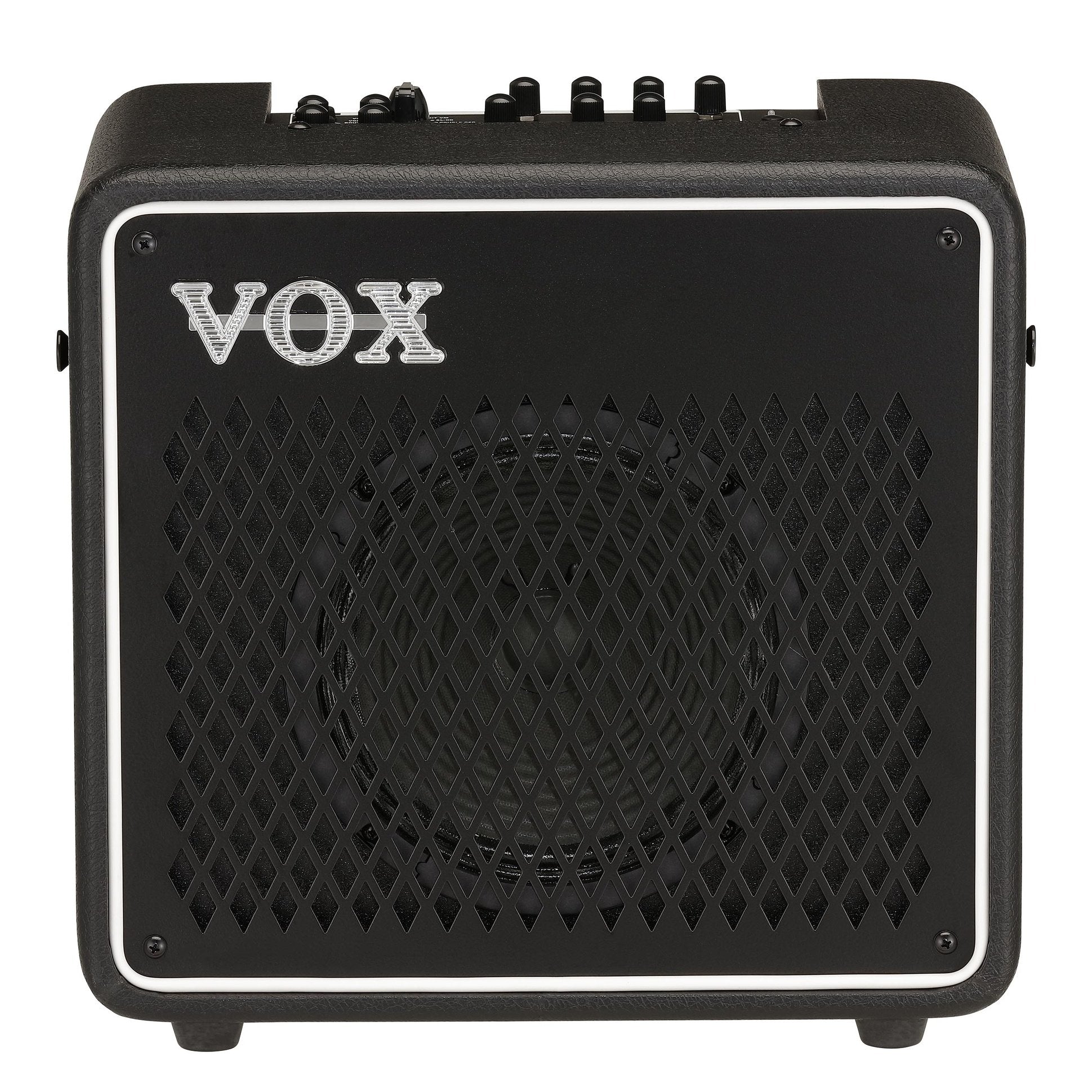 The Mini Go 50 covers all the bases from practice to live performance—at home, in concert venues or out on the streets.
VMG-50 can be taken anywhere, letting you enjoy playing everywhere, whether at home, on the street or in a concert venue.
These amps are lightweight, compact and can be powered by a mobile battery. They also offer powerful and realistic amp models based on those found in the Cambridge50, as well as a newly developed vocoder for talking modulation effects, onboard effects that let you create a diverse range of sounds, a mic input, AUX input, a headphone jack and a rhythm machine that can playback patterns from many genres... all as standard features.  Vox Mini Go 10 even features an onboard looper 
Rhythm machine makes playing even more fun!
The built-in rhythm patterns on this series cover various genres and metronome types. There are three variations for each genre, for a total of 33 types of rhythm patterns.
Use the selector to easily call up a rhythm pattern and then freely adjust the tempo and volume to effortlessly enjoy a rhythm-backed jam session, develop some riff ideas, or work on your sense of rhythm—there are so many ways to enjoy these amps.

Rhythm patterns: ROCK, METAL, POP, BLUES, FUNK, R&B, JAZZ, LATIN, DANCE 3/5/7, METRO
Can be powered by a mobile battery
The Vox Mini Go series can be powered either by a commercially available mobile battery or with the included AC adapter. These amps are the perfect choice for street performances and performing outdoors as well. Use the attached carrying strap to easily take the amp with you wherever you go and have fun playing guitar at any place, any time.

Features a variety of input/output jacks
Aside from an input jack for your guitar, these amps also feature a variety of other input/output jacks. You can adjust the volume for the mic input and also apply delay/reverb effects to the input signal, which is optimal for situations like playing and singing solo. Also, you can select the VOCODER amp model for a talking modulation effect that sounds as if you're playing a talking guitar, which you can use by playing the guitar while singing or talking into the mic.
The amp also features an AUX IN jack for your music player or another external sound source, which gives you three simultaneous input channels including the signals from your guitar and mic.
Further, this amp has a built-in cabinet simulator, which you can hear through the PHONES jack. This cab sim adds the characteristics of a guitar amp cabinet to the output signal just before it reaches the power amp. This is perfect when recording to an audio recorder or when practising in headphones.
Built-in looper functionality (Vox Mini Go 10/50)
The looper on these amps lets you loop the playback of phrases you record with your guitar or mic and then play along for a jam session, or overdub again and again in real-time performance.
When using the looper along with the rhythm machine and then recording while the rhythm pattern plays, the length of the loop when you stop recording is adjusted (quantized) to match the length of the measure. Also, when you play a rhythm pattern while the looper is playing, the tempo of the rhythm is automatically set to match the loop's length.
Use the optional VFS3 (sold separately) to freely mix the three loop modes while you play. *Only mode 1 can be used while operating the Vox Mini Go without a foot switch.

Amp models
The amp models used to define the sound of the VOX MINI GO series use the "VET" modelling technology used on the VOX Cambridge50, which offers a realistic and responsive sound. Selectable amp models include the traditional VOX AC30 type, an amp stack model representative of the 80's, a boutique amp, and a high-gain amp with massive distortion. The LINE setting is useful when plugging in an electric acoustic guitar or keyboard.
A new and unique vocoder has been added for "talking modulation" effects that sound as if you're playing a talking guitar, which you can use by playing the guitar while singing or talking into the mic (or while you're picking the guitar strings if you don't have a mic connected).
DELUXE CL
This dual channel, 22W blackface design from the 60's used 6V6 power tubes and a tube driven reverb to produce a big sound at a lower wattage. Our modeling is based on the Vibrato channel.
BOUTIQUE CL
The clean channel of a high-quality amp that was produced only on special order, and was known as the overdrive special. With a beautifully rounded low range, a sharp midrange attack, and a sweet treble register, this is ideal for single coil pickups.
BOUTIQUE OD
The overdrive channel of a 100W high-quality amp that was produced only on special order, and was known as the overdrive special. The wonderful sustain obtained by raising the GAIN control is smooth and soulful.
Vox AC30
The normal channel of AC30, which is a typical guitar amplifier of Vox. The clear high range of the Celestion alnico "Blue" speaker, as well as the rich midrange, deliver a captivating clean sound.
Vox AC30TB
The classic "top boost" circuit of the 1964 AC30. It delivers a smooth and refined top end, a majestically deep overdrive, and a rich, brilliant clean sound.
BRIT 800
A UK-manufactured 100W single-channel head with master volume made in 1983. Turn the GAIN control all the way up to get the thick, snarling hard rock and heavy metal sound that dominated the 80's.
BRIT VM
An English-made 100W amp head released in 2007 that boasts a four-channel design with powerful tone. We've used the "Overdrive 2" channel, which produces a tight low-end and transparent high-gain metal sound.
SL-OD
The overdrive channel of a snakeskin-covered 100W amp head built in 1991. With an open low-end and a compressed mid/high range, its powerful, heavy sound delivers a forceful tone that will not break down even with the most extreme gain settings.
DOUBLE REC
The modern high-gain channel from a wild beast of an amp. Its deep and loose low-end, sparkling highs, and monstrous gain are ideal for guitars tuned as low as possible, or for metal acts wielding seven-string guitars.
VOCODER
When you sing or speak into the microphone while playing the guitar, the talking modulation effect is activated, which makes it sounds as if the guitar is singing. This is effective when you speak clearly while changing your voice.
LINE
Only a tone control amplifier that produces a clean tone. This works best with audio signal input from a line-level instrument like an electric acoustic guitar or keyboard.

Built-in effects
The effects on the Vox Mini Go series have been revamped for a clearer sound that matches the sound of modern-day music with more precise modelling, which also lets you create a wider range of sounds. Effects types available include chorus, phaser and octave. Including the delay/reverb type, this gives you a total of eight effect types.
EFFECTS 1 (Modulation types/Octave)
CHORUS: A standard chorus effect that gives the sound a sway and rich expanse.
PHASER: A phaser effect that creates a cyclical swell.
TREMOLO: A typical tremolo that modulates the volume up and down cyclically.
OCTAVE: An effect that adds a bass sound that is one octave lower. You can adjust the knob to achieve a subtle octave or one that is fully present, and increasing the knob further provides synth bass sound with good resonance.

EFFECTS 2 (Delay/Reverb types)
A.DLY: Models an analog delay that uses a Bucket Brigade Device (BBD).
D.DLY: Creates a clear sound delay unique to digital systems. This is effective for rhythmic play that matches the delay time to the tempo of the song.
SPRING: Simulates the spring reverb that's built into many guitar amps.
HALL: Models the reverberation of a concert hall containing numerous echo components. The operation of the knob and button is the same as with SPRING.
Video
All Certified Refurbished Vox products come with the reassurance of a 1-year warranty. See the Vox Amps UK Warranty policy for more information.
We offer a 30-day returns period on all products purchased directly from Vox Amps UK.